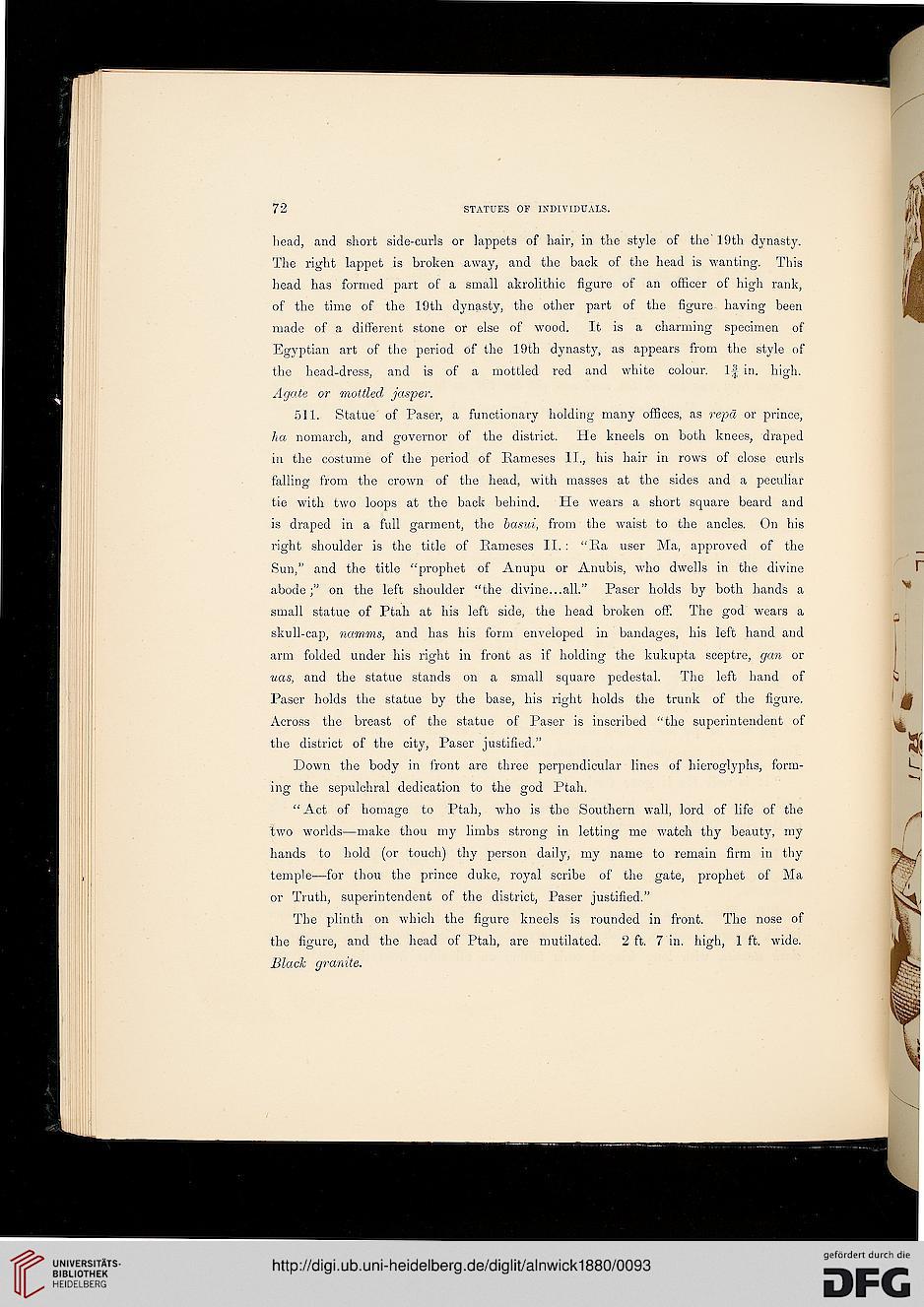 72

STATUES OF INDIVIDUALS.

head, and short side-curls or lappets of hair, in the style of the' 19th dynasty.
The right lappet is broken away, and the back of the head is wanting. This
head has formed part of a small akrolithic figure of an officer of high rank,
of the time of the 19th dynasty, the other part of the figure having been
made of a different stone or else of wood. It is a charming specimen of
Egyptian art of the period of the 19th dynasty, as appears from the style of
the head-dress, and is of a mottled red and white colour. If in. high.
Agate or mottled jasper.

511. Statue of Paser, a functionary holding many offices, as repd or prince,
ha nomarch, and governor of the district. He kneels on both knees, draped
in the costume of the period of Barneses II., his hair in rows of close curls
falling from the crown of the head, with masses at the sides and a peculiar
tie with two loops at the back behind. He wears a short square beard and
is draped in a full garment, the basui, from the waist to the ancles. On his
right shoulder is the title of Rameses II. : "Pa user Ma, approved of the
Sun," and the title "prophet of Anupu or Anubis, who dwells in the divine
abode;" on the left shoulder "the divine...all." Paser holds by both hands a
small statue of Ptah at his left side, the head broken off. The god wears a
skull-cap, namms, and has his form enveloped in bandages, his left hand and
arm folded under his right in front as if holding the kukupta sceptre, gan or
uas, and the statue stands on a small square pedestal. The left hand of
Paser holds the statue by the base, his right holds the trunk of the figure.
Across the breast of the statue of Paser is inscribed ''the superintendent of
the district of the city, Paser justified."

Down the body in front are three perpendicular lines of hieroglyphs, form-
ing the sepulchral dedication to the god Ptah.

"Act of homage to Ptah, who is the Southern wall, lord of life of the
two worlds—make thou my limbs strong in letting me watch thy beauty, my
hands to hold (or touch) thy person daily, my name to remain firm in thy
temple—for thou the prince duke, royal scribe of the gate, prophet of Ma
or Truth, superintendent of the district, Paser justified."

The plinth on which the figure kneels is rounded in front. The nose of
the figure, and the head of Ptah, are mutilated. 2 ft. 7 in. high, 1 ft. wide.
Black granite.