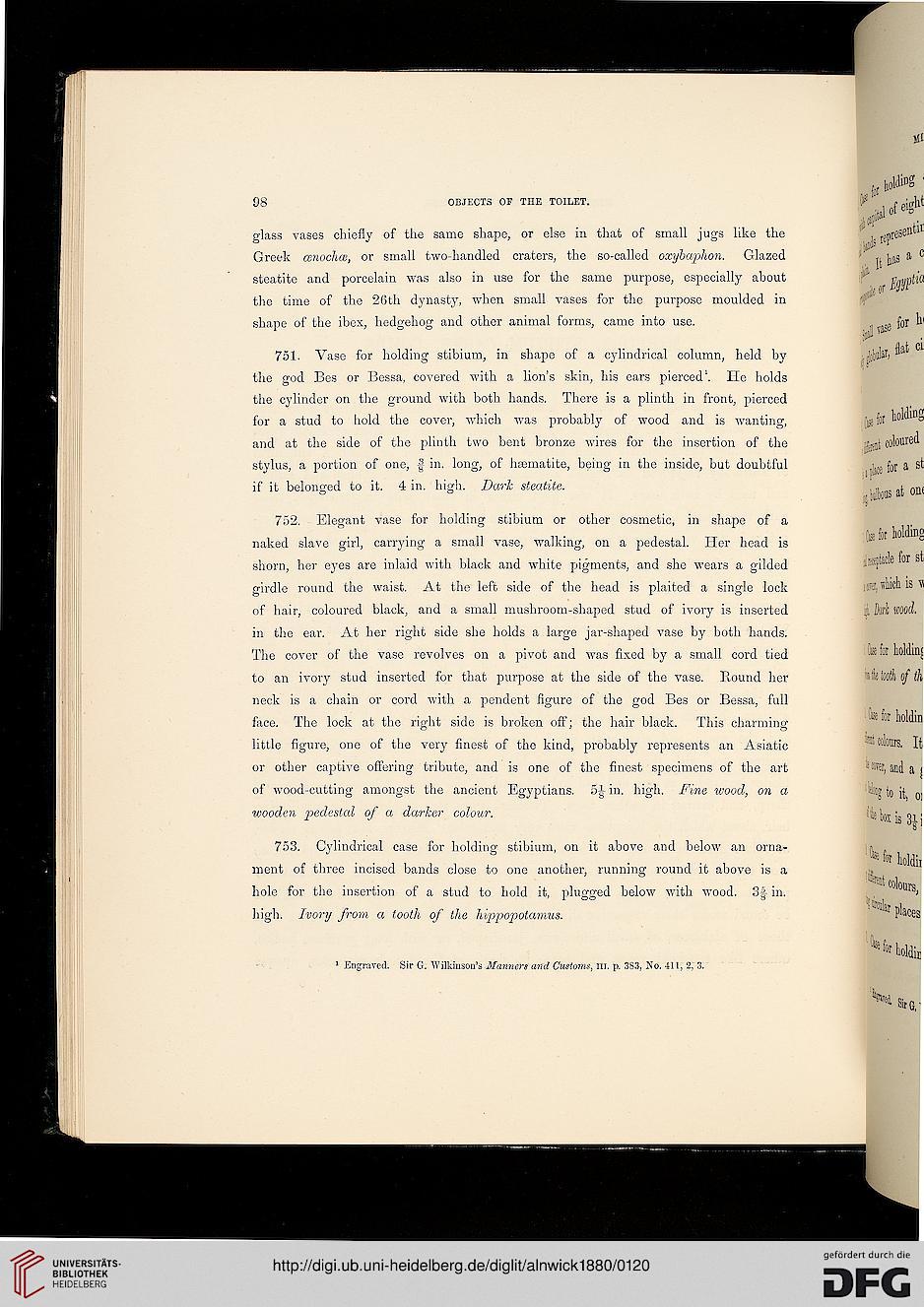 98

OBJECTS OF THE TOILET.

glass vases chiefly of the same shape, or else in that of small jugs like the
Greek cenochce, or small two-handled craters, the so-called oxyba/phon. Glazed
steatite and porcelain was also in use for the same purpose, especially about
the time of the 26th dynasty, when small vases for the purpose moulded in
shape of the ibex, hedgehog and other animal forms, came into use.

751. Vase for holding stibium, in shape of a cylindrical column, held by
the god Bes or Bessa, covered with a lion's skin, his ears pierced1. He holds
the cylinder on the ground with both hands. There is a plinth in front, pierced
for a stud to hold the cover, which was probably of wood and is wanting,
and at the side of the plinth two bent bronze wires for the insertion of the
stylus, a portion of one, f in. long, of haematite, being in the inside, but doubtful
if it belonged to it. 4 in. high. Dark steatite.

752. Elegant vase for holding stibium or other cosmetic, in shape of a
naked slave girl, carrying a small vase, walking, on a pedestal. Her head is
shorn, her eyes are inlaid with black and white pigments, and she wears a gilded
girdle round the waist. At the left side of the head is plaited a single lock
of hair, coloured black, and a small mushroom-shaped stud of ivory is inserted
in the ear. At her right side she holds a large jar-shaped vase by both hands.
The cover of the vase revolves on a pivot and was fixed by a small cord tied
to an ivory stud inserted for that purpose at the side of the vase. Bound her
neck is a chain or cord with a pendent figure of the god Bes or Bessa, full
face. The lock at the right side is broken off; the hair black. This charming
little figure, one of the very finest of the kind, probably represents an Asiatic
or other captive offering tribute, and is one of the finest specimens of the art
of wood-cutting amongst the ancient Egyptians. 5-J- in. high. Fine wood, on a
wooden 'pedestal of a darker colour.

753. Cylindrical case for holding stibium, on it above and below an orna-
ment of three incised bands close to one another, running round it above is a
hole for the insertion of a stud to hold it, plugged below with wood. 3-| in.
high. Ivory from a tooth of the hippopotamus.

1 Engraved. Sir G. Wilkinson's Manners and Customs, in. p. 383, No. 411, 2, 3.