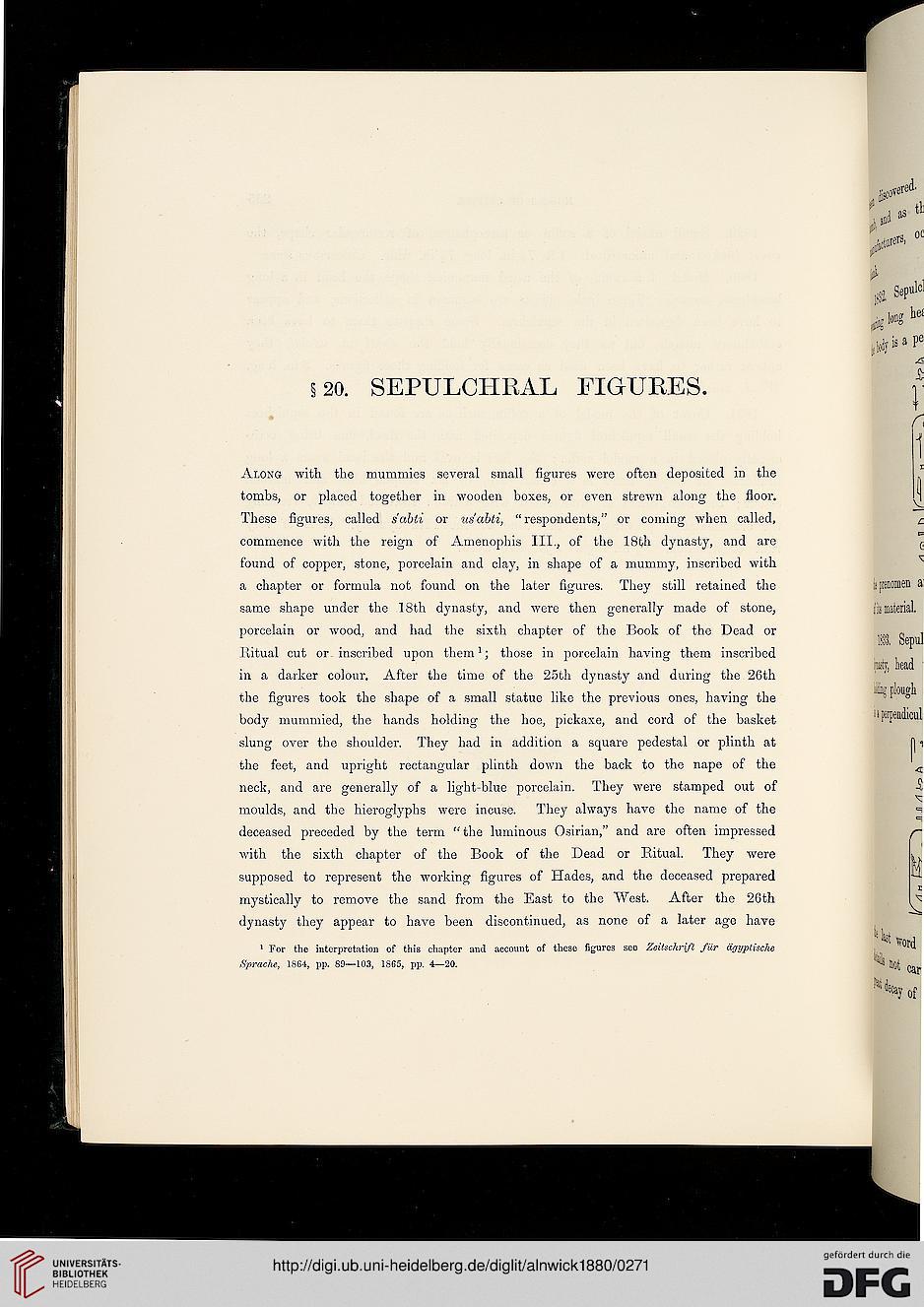 §20. SEPULCHRAL FIGURES.

Along with the mummies several small figures were often deposited in the
tombs, or placed together in wooden boxes, or even strewn along the floor.
These figures, called s'abti or us'abti, "respondents," or coming when called,
commence with the reign of Amenophis III., of the 18th dynasty, and are
found of copper, stone, porcelain and clay, in shape of a mummy, inscribed with

a chapter or formula not found on the later figures. They still retained the apomen
same shape under the 18th dynasty, and were then generally made of stone, ft material,

porcelain or wood, and had the sixth chapter of the Book of the Dead or
Ritual cut or inscribed upon them1; those in porcelain having them inscribed
in a darker colour. After the time of the 25th dynasty and during the 26th
the figures took the shape of a small statue like the previous ones, having the
body mummied, the hands holding the hoe, pickaxe, and cord of the basket
slung over the shoulder. They had in addition a square pedestal or plinth at
the feet, and upright rectangular plinth down the back to the nape of the
neck, and are generally of a light-blue porcelain. They were stamped out of
moulds, and the hieroglyphs were incuse. They always have the name of the
deceased preceded by the term "the luminous Osirian," and are often impressed
with the sixth chapter of the Book of the Dead or Ritual. They were
supposed to represent the working figures of Hades, and the deceased prepared
mystically to remove the sand from the East to the "West. After the 26th
dynasty they appear to have been discontinued, as none of a later age have

1 For the interpretation of this chapter and account of these figures see Zeitschrifl fiir agyptische
Spraehe, 1864, pp. 89—103, 1865, pp. 4—20.