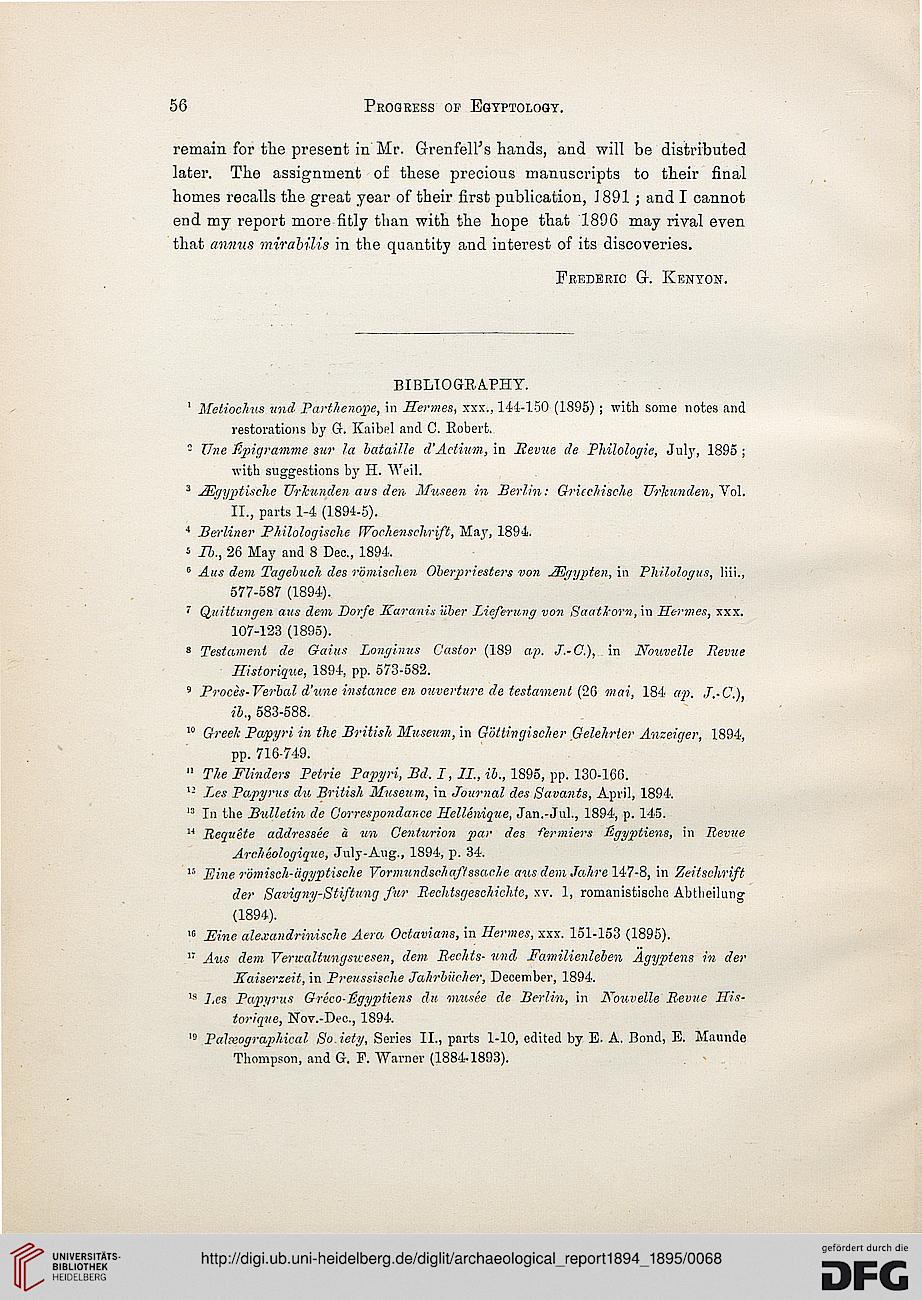 50

Progress of Egyptology.

remain for the present in'Mr. Grrenfell's hands, and will be distributed
later. The assignment of these precious manuscripts to their final
homes recalls the great year of their first publication, ] 891 ; and I cannot
end my report more fitly than with the hope that 189G may rival even
that annus mirabilis in the quantity and interest of its discoveries.

Frederic G-. Kenyon.

BIBLIOGRAPHY.

I Metioclius und Partlienope, in Hermes, xxx., 141-150 (1895) ; with some notes and

restorations by G. Kaibel and C. Eobert.
• line fipigramme stir la bataille d'Actium, in Hevue de Philologie, Jul}*, 1895 ;
with suggestions b}r H. Weil.

3 JEgyptiselie Urkunden aus den Museen in Berlin: Griechische Urlcunden, Vol.

II., parts 1-4 (1894-5).

4 Berliner Philologische Woeliensclwift, May, 1894.
s Ib., 26 May and 8 Dee., 1894.

6 Aus dem Tagehuch des vomischem Oherpriesters von JEgypten, in Philologus, liii.,

577-587 (1894).

7 Quittungen aus dem Dorfe Karanis uber TAeferung von SaatJcovn,va Hermes, xxx.

107-123 (1895).

8 Testament de Gains Longinus Castor (189 ap. J.-C), in Nouvelle Revue

Historique, 1894, pp. 573-582.

9 Proces- Verbal d'une instance en ouverture de testament (26 mai, 184 ap. /.. C),

ib., 583-588.

10 Greek Papyri in the British Museum, in Gottingischer Gelehrier Anzeiger, 1894,

pp. 716-749.

II The Flinders Petrie Papyri, Bd. I, II., ib., 1895, pp. 130-166.

12 Les Papyrus du British Museum, in Journal des Savants, April, 1894.

13 In the Bulletin de Gorrespondance Hellenique, Jan.-Jul., 1894, p. 145.

14 Requete addressee a tin Centurion par des fermiers Hgyptiens, in Tievue

Archeologique, July-Aug., 1894, p. 34.

15 Fine rbmisch-iigyptische Vormundschaffssache aus dem JoJirel47-8, in Zeitschrift

der Savigny-Stiftung fur Rechtsgeschichte, xv. 1, romanistische Abtlieilung
(1894).

16 Fine alexandrinische Aera Octavians, in Hermes, xxx. 151-153 (1895).

17 Aus dem Vertcaltungswesen, dem Rechts- und Familienleben Agyptens in der

Eaiserzeit, in Preussisehe Jahrbiicher, December, 1894.

13 Pes Papyrus Greco-Hgypiiens du musee de Berlin, in Nouvelle Revue His-
torique, Nov.-Dec., 1894.

19 Palxographical SoAety, Series II., parts 1-10, edited by E. A. Bond, E. Maunde
Thompson, and G. P. Warner (1884-1893).