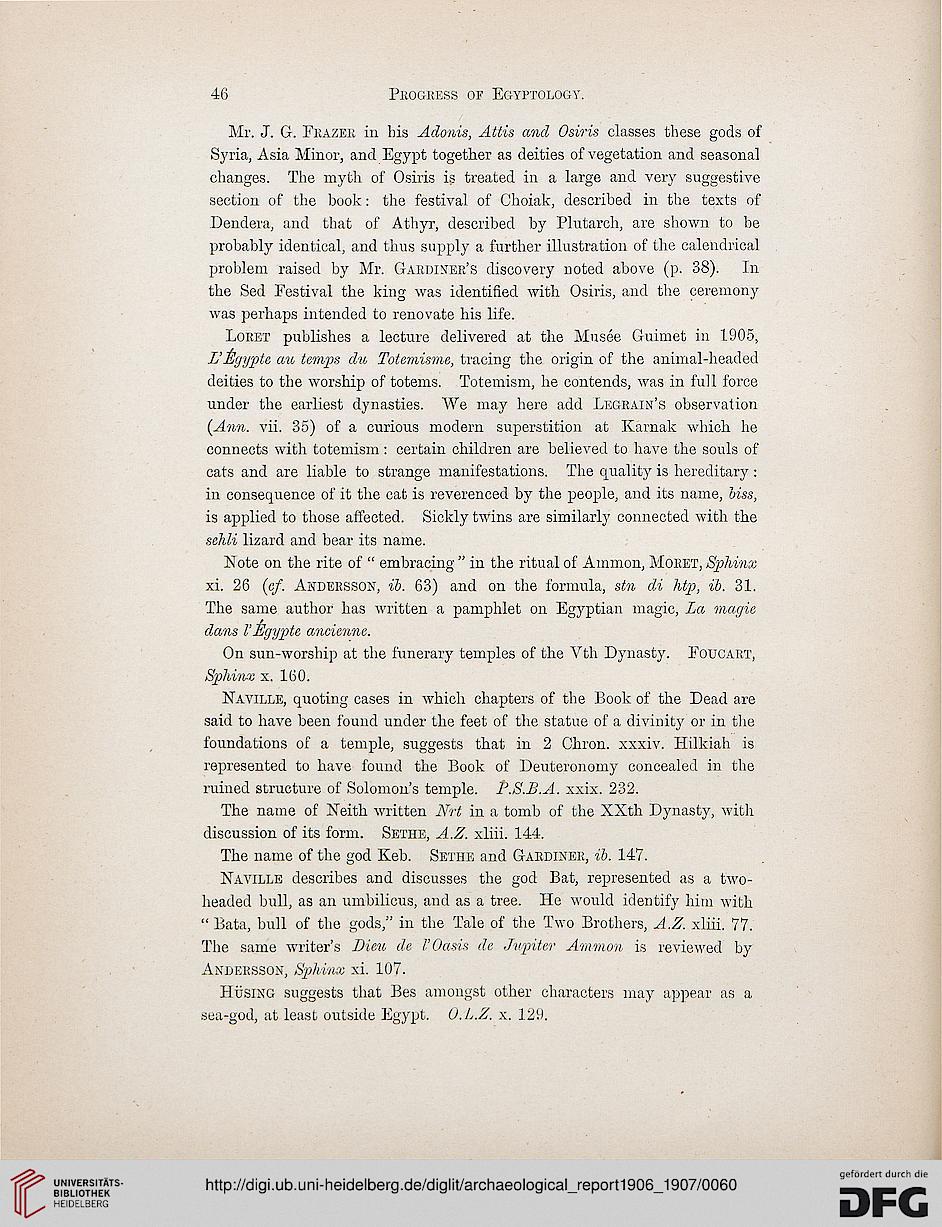 46

Progress of Egyptology.

Mr. J. G. Frazer in bis Adonis, Attis and Osiris classes these gods of
Syria, Asia Minor, and Egypt together as deities of vegetation and seasonal
changes. The myth of Osiris is treated in a large and very suggestive
section of the book: the festival of Choiak, described in the texts of
Dendera, and that of Athyr, described by Plutarch, are shown to be
probably identical, and thus supply a further illustration of the calendrical
problem raised by Mr. Gardiner's discovery noted above (p. 38). In
the Sed Festival the king was identified with Osiris, and the ceremony
was perhaps intended to renovate his life.

Loret publishes a lecture delivered at the Musee Guimet in 1905,
JJjfcgijptc ait temps du Totemisme, tracing the origin of the animal-headed
deities to the worship of totems. Totemism, he contends, was in full force
under the earliest dynasties. We may here add Legrain's observation
(Ann. vii. 35) of a curious modern superstition at Karnak which he
connects with totemism : certain children are believed to have the souls of
cats and are liable to strange manifestations. The quality is hereditary :
in consequence of it the cat is reverenced by the people, and its name, hiss,
is applied to those affected. Sickly twins are similarly connected with the
sehli lizard and bear its name.

Note on the rite of " embracing " in the ritual of Amnion, Moret, Sphinx
xi. 26 (cf. Andersson, it. 63) and on the formula, stn di Mp, ib. 31.
The same author has written a pamphlet on Egyptian magic, La magie
dans I'Dgypte ancienne.

On sun-worship at the funerary temples of the Vth Dynasty. Eoucart,
Sphinx x. 160.

Naville, quoting cases in which chapters of the Book of the Dead are
said to have been found under the feet of the statue of a divinity or in the
foundations of a temple, suggests that in 2 Chron. xxxiv. Hilkiah is
represented to have found the Book of Deuteronomy concealed in the
ruined structure of Solomon's temple. P.S.B.A. xxix. 232.

The name of Neith written Nrt in a tomb of the XXth Dynasty, with
discussion of its form. Sethe, A.Z. xliii. 144.

The name of the god Keb. Sethe and Gardiner, ib. 147.

Naville describes and discusses the god Bat, represented as a two-
headed bull, as an umbilicus, and as a tree. He would identify him with
" Bata, bull of the gods," in the Tale of the Two Brothers, A.Z. xliii. 77.
The same writer's Dim de 1'Oasis de Jupiter Amnion is reviewed by
Andersson, Sphinx xi. 107.

HusiNG suggests that Bes amongst other characters may appear as a
sea-god, at least outside Egypt. O.L.Z. x. 121).