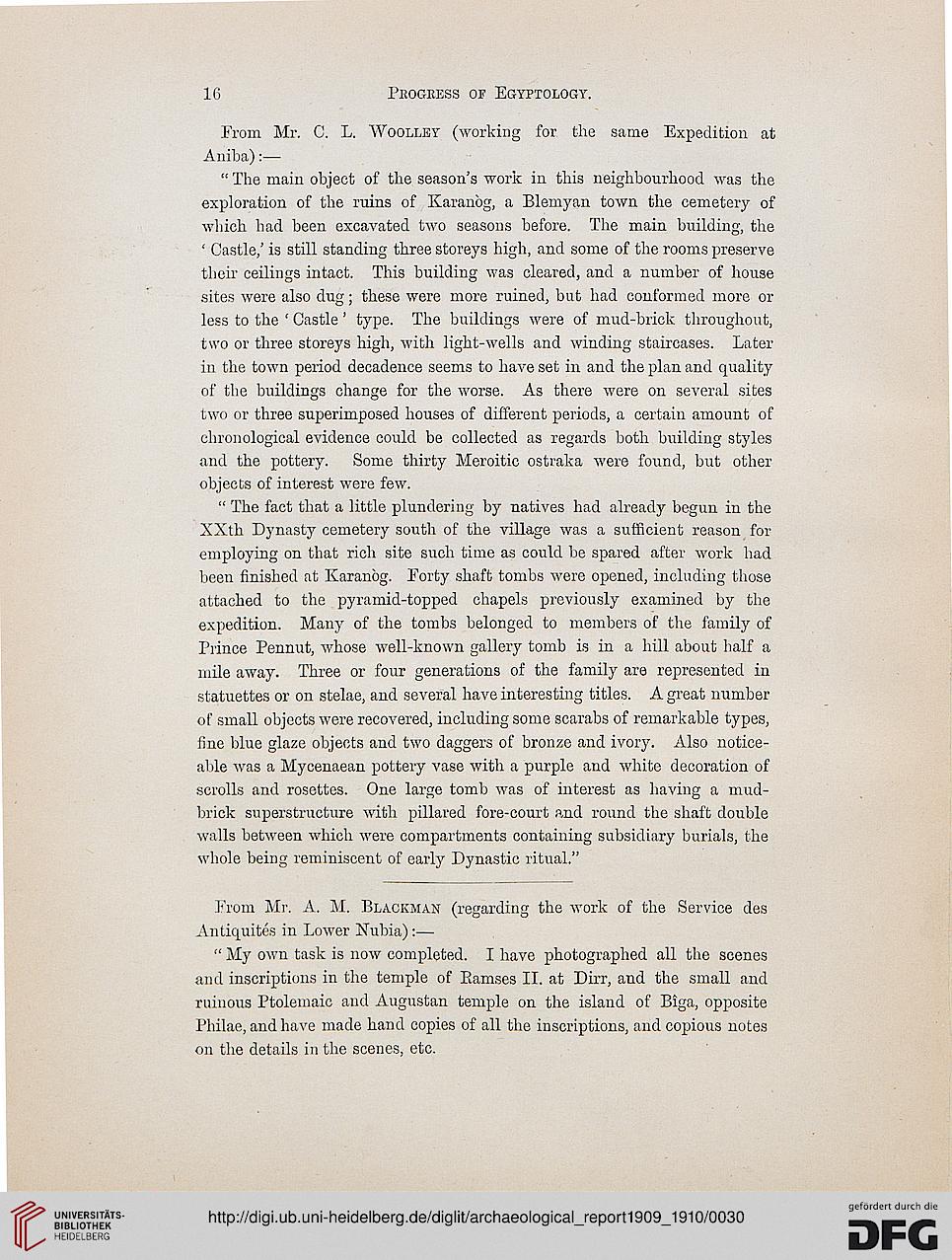 16

Pkogress of Egyptology.

From Mr. C. L. Woolley (working for the same Expédition at
Aniba) :—

" ïbe main object of the season's work in this neighbourhood was the
exploration of the ruins of Karanbg, a Blemyan town the cemetery of
which had been excavated two seasons before. The main building, the
' Castle,' is still standing three storeys high, and some of the rooms préserve
their ceilings intact. This building was cleared, and a nmnber of house
sites were also dug ; thèse were more ruined, but had conformed more or
less to the ' Castle ' type. The buildings were of mud-brick throughout,
two or three storeys high, with light-wells and winding staircases. Later
in the town period décadence seems to bave set in and the plan and quality
of the buildings change for the worse. As there were on several sites
two or three superimposed houses of différent periods, a certain amount of
chronological évidence could be collected as regards both building styles
and the pottery. Some thirty Meroitic ostraka were found, but other
objects of interest were few.

" The fact that a little plundering by natives had already begun in the
XXth Dynasty cemetery south of the village was a sufficient reason for
employing on that rich site such time as could be spared after work had
been finished at Karanbg. Eorty shaft tombs were opened, including those
attached to the pyramid-topped chapels previously examined by the
expédition. Many of the tombs belonged to members of the family of
Prince Pennut, whose well-known gallery tomb is in a Mil about half a
mile away. Three or four générations of the family are represented in
statuettes or on stelae, and several have interesting titles. A great number
of small objects were recovered, including some scarabs of remarkable types,
fine blue glaze objects and two daggers of bronze and ivory. Also notice-
able was a Mycenaean pottery vase with a purple and white décoration of
scrolls and rosettes. One large tomb was of interest as having a mud-
brick superstructure with pillared fore-court and round the shaft double
walls between which were compartments containing subsidiary buiïals, the
wbole being reminiscent of early Dynastie ritual."

From Mr. A. M. Blackman (regarding the work of the Service des
Antiquités in Lower Nubia) :—

" My own task is now completed. I have photographed ail the scènes
and inscriptions in the temple of Bamses II. at Dirr, and the small and
ruinous Ptolemaic and Augustan temple on the island of Bîga, opposite
Philae, and have made hand copies of ail the inscriptions, and copious notes
on the détails in the scènes, etc.