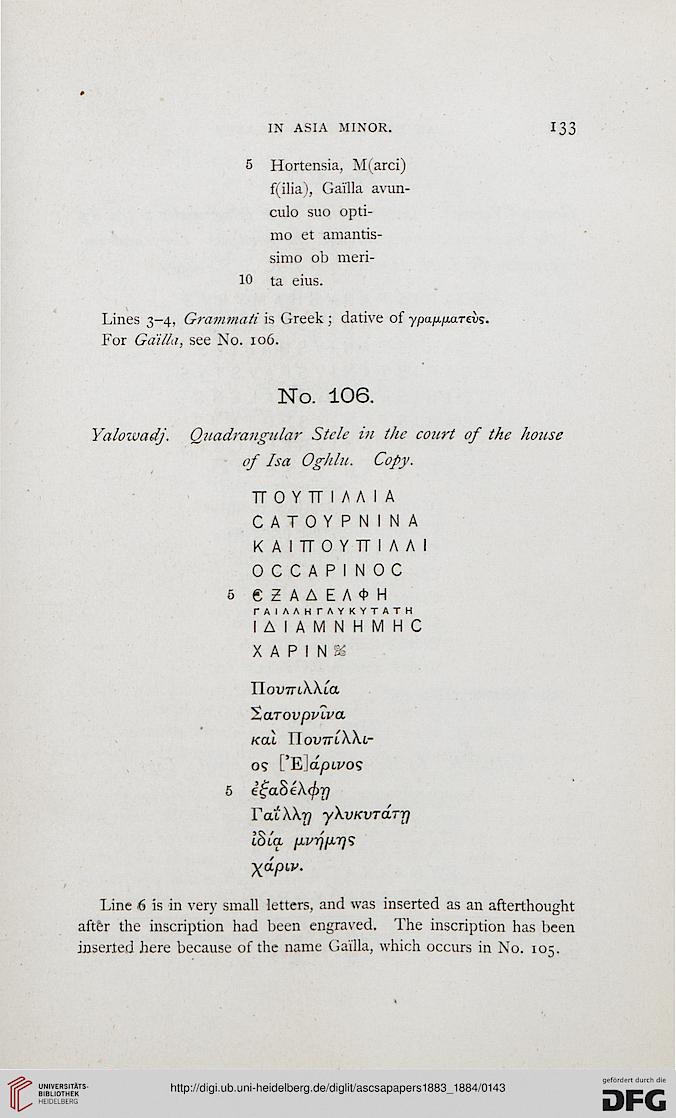 IN ASIA MINOR. 133

5 Hortensia, M(arci)
f(ilia), Gaflla avun-
culo suo Opti-
mo et amantis-
simo ob med-
io ta eius.

Lines 3-4, Grannnati is Greek ; dative of ypafi/jLaTfv<s.
For Ga'illa, see No. 106.

No. 106.

Ya low adj. Quadrangular Stele in the coicrt of the house
of Isa Ogh/11. Copy.

TT 0 Y TT \ A A I A
CATOYPNINA
KAITTOYTTIAAI
OCCAPINOC
5 6ZAAEA4-H

TAIAAHTAYKYTATH

IAIAMNHMHC

X A P I N %

WovTrCKkia
larovpvlva
Kai 11 ovttl XXt-
09 ['Elapii/os
5 i£a8ek(f)r)

Ya'tWr) y\vKVTa.T7)
ISlo. fjLvy]iMT)<;

Line 6 is in very small letters, and was inserted as an afterthought
after the inscription had been engraved. The inscription has been
inserted here because of the name Gailla, which occurs in No. 1015.