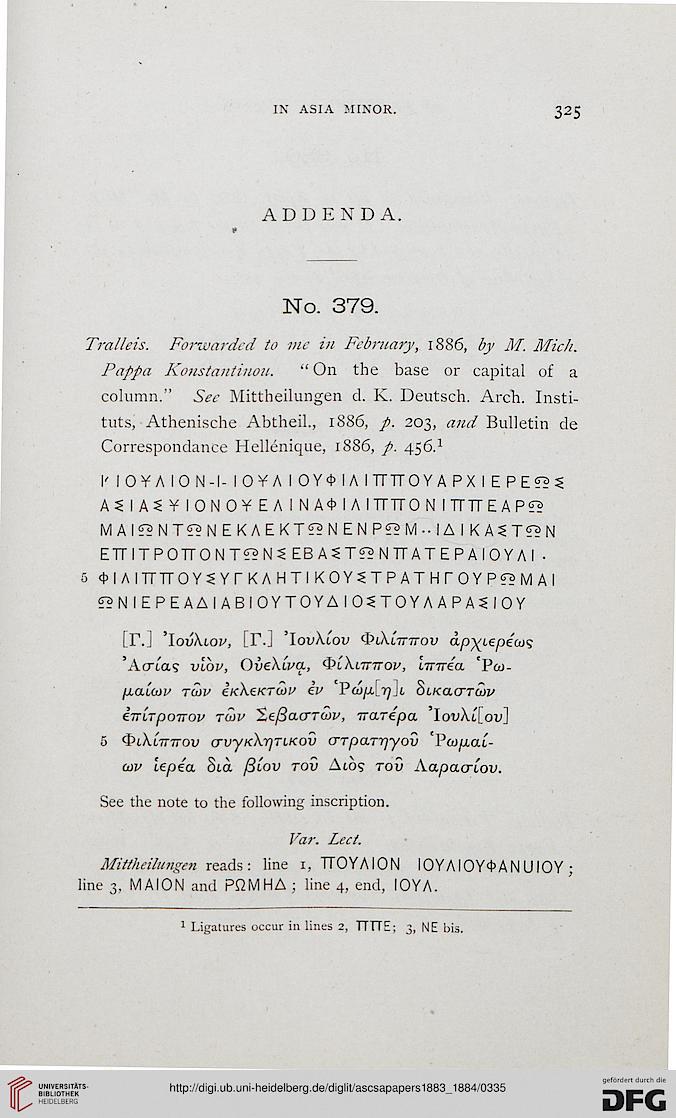 325

ADDENDA.

No. 379.

Trallcis. Forwarded to me in February, 1886, by M. Mich.
Pappa Konstantinou. "On the base or capital of a
column." Sec Mittheilungen d. K. Deutsch. Arch. Insti-
tuts, Athenische Abtheil., 1886, p. 203, and Bulletin de
Correspondence Hellenique, 1S86, /. 456.1

MO¥AION-l-IO¥AIOY4>IAITTTTOYAPXIEPE??S
AS!AS¥IONO¥EAINA<MA I TTTTO N I TTTT E AP5?
MAI?2NT??NEKAEKTf?NENP??M--IAIKA5Tf$N
ETTITP0TT0NT??N5 EBASTf?NTTATEPAIOYAI •
5<t>IAITTTTOY§YrKAHTIKOY§TPATHrOYP??MAI
51>NIEPEAAIABI0YT0YAI0ST0YAAPASI0Y

[r.J 'lovkiov, [V.] 'lovXCov QiXlttttov dpxieoe'ws
'Atrtas vlbv, OveXCva, <$>l'knnrov, linrea 'Pcu-
paiwv Twv eK\eKTa>i> Iv 'Pw/il/nji Si/cao-Tojj/

eTTLTpOTTOV TWC ItfidCTTCilV, 7TCLT€pct lov\l[ov]

5 <J>tXt7T7rov (jvyKKfjTiKov a-Tparrj-yov 'Pcu/xat-
wv lepea Sid fBiov tov A10? tov AapaaCov.

See the note to the following inscription.

Far. Led.

Mittheilungen reads: line 1, TTOYAION IOYAIOY<t>AN UIOY ;
line 3. MAION and PQMHA ; line 4, end, IOYA.

1 Ligatures occur in lines 2, TTTTE; 3, NE bis.