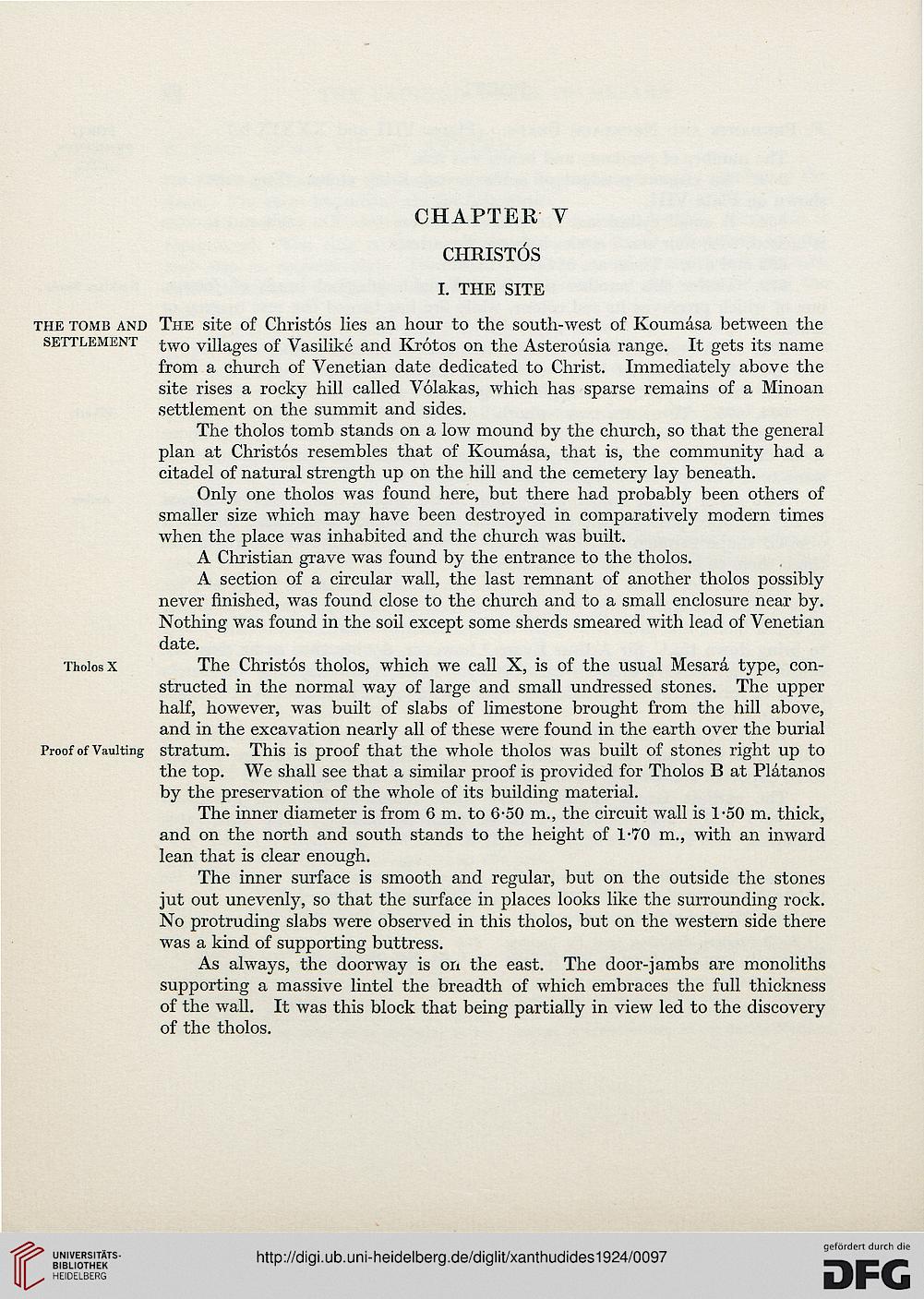 CHAPTER V

CHRISTOS
I. THE SITE

the tomb and The site of Christos lies an hour to the south-west of Koumasa between the
settlement £wo villages of Vasilike and Krotos on the Asterousia range. It gets its name
from a church of Venetian date dedicated to Christ. Immediately above the
site rises a rocky hill called Volakas, which has sparse remains of a Minoan
settlement on the summit and sides.

The tholos tomb stands on a low mound by the church, so that the general
plan at Christos resembles that of Koumasa, that is, the community had a
citadel of natural strength up on the hill and the cemetery lay beneath.

Only one tholos was found here, but there had probably been others of
smaller size which may have been destroyed in comparatively modern times
when the place was inhabited and the church was built.

A Christian grave was found by the entrance to the tholos.

A section of a circular wall, the last remnant of another tholos possibly
never finished, was found close to the church and to a small enclosure near by.
Nothing was found in the soil except some sherds smeared with lead of Venetian
date.

Tholos x The Christos tholos, which we call X, is of the usual Mesara type, con-

structed in the normal way of large and small undressed stones. The upper
half, however, was built of slabs of limestone brought from the hill above,
and in the excavation nearly all of these were found in the earth over the burial
Proof of Vaulting stratum. This is proof that the whole tholos was built of stones right up to
the top. We shall see that a similar proof is provided for Tholos B at Platanos
by the preservation of the whole of its building material.

The inner diameter is from 6 m. to 6-50 m., the circuit wall is 1-50 m. thick,
and on the north and south stands to the height of 1-70 m., with an inward
lean that is clear enough.

The inner surface is smooth and regular, but on the outside the stones
jut out unevenly, so that the surface in places looks like the surrounding rock.
No protruding slabs were observed in this tholos, but on the western side there
was a kind of supporting buttress.

As always, the doorway is on the east. The door-jambs are monoliths
supporting a massive lintel the breadth of which embraces the full thickness
of the wall. It was this block that being partially in view led to the discovery
of the tholos.