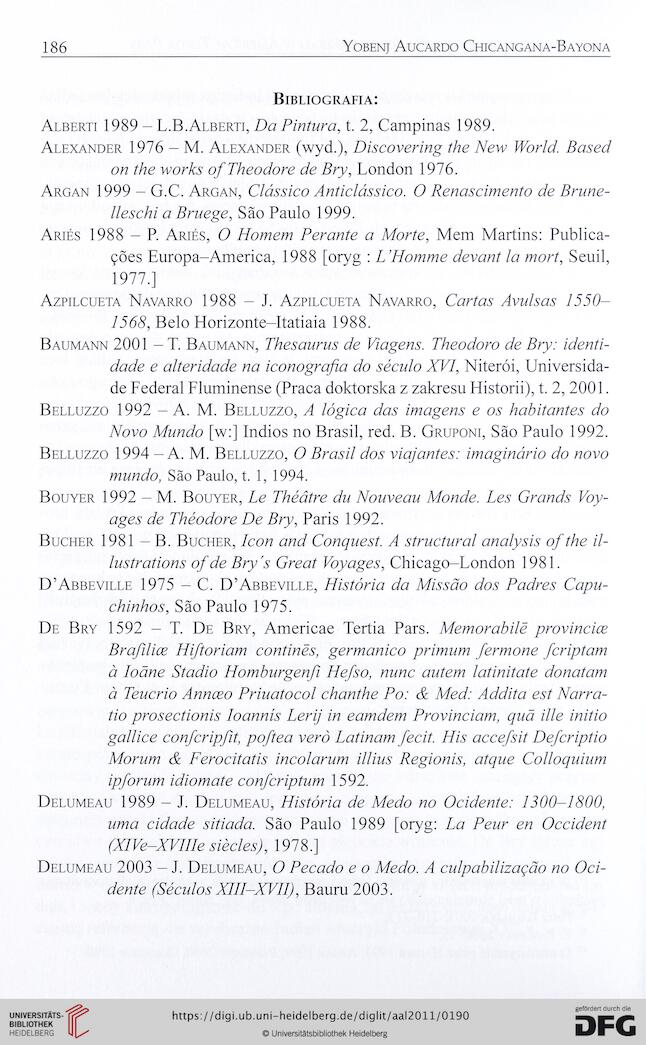 Yobenj Aucardo Chicangana-Bayona

Bibliografia:
Alberti 1989 - L.B.Alberti, Da Pintura, t. 2, Campinas 1989.
Alexander 1976 - M. Alexander (wyd.), Discovering the New World. Based
on the works of Theodore de Bry, London 1976.
Argan 1999 - G.C. Argan, Clássico Anticlássico. O Renascimento de Brune-
lleschi a Bruege, Sao Paulo 1999.
Aries 1988 - P. Aries, O Homem Perante a Morte, Mem Martins: Publica-
ęóes Europa-America, 1988 [oryg : L'Homme devant la mort, Seuil,
1977.]
Azpilcueta Navarro 1988 - J. Azpilcueta Navarro, Cartas Avulsas 1550-
1568, Belo Horizonte-Itatiaia 1988.
Baumann 2001 -T. Baumann, Thesaurus de Viagens. Theodoro de Bry: identi-
dade e alteridade na iconografía do século XVI, Niterói, Universida-
de Federal Fluminense (Praca doktorska z zakresu Historii), t. 2, 2001.
Belluzzo 1992 - A. M. Belluzzo, A lógica das imagens e os habitantes do
Novo Mundo [w:] Indios no Brasil, red. B. Gruponi, Sao Paulo 1992.
Belluzzo 1994 - A. M. Belluzzo, O Brasil dos viajantes: imaginario do novo
mundo, Sao Paulo, t. 1, 1994.
Bouyer 1992 - M. Bouyer, Le Theatre du Nouveau Monde. Les Grands Voy-
ages de Theodore De Bry, Paris 1992.
Bucher 1981 - B. Bucher, Icon and Conquest. A structural analysis of the il-
lustrations of de Bry's Great Voyages, Chicago-London 1981.
D'Abbeville 1975 - C. D'Abbeville, Historia da Missao dos Padres Capu-
chinhos, Sao Paulo 1975.
De Bry 1592 - T. De Bry, Americae Tertia Pars. Memorabilé provincice
Brafdice Hiftoriam continés, germánico primum fermone fcriptam
a loane Stadio Homburgenfi Hefso, nunc autem latinitate donatam
a Teucrio Annceo Priuatocol chanthe Po: & Med: Addita est Narra-
do prosectionis loannis Lerij in eamdem Provinciam, qua die initio
gallice conf crip fit, poftea vero Latinam fecit. His accefsit Defcriptio
Morum & Ferocitatis incolarum illius Regionis, atque Colloquium
ipforum idiomate confcriptum 1592.
Delumeau 1989 - J. Delumeau, Historia de Medo no Ocidente: 1300-1800,
urna cidade sitiada. Sao Paulo 1989 [oryg: La Peur en Occident
(XlVe-XVIIIe siécles), 1978.]
Delumeau 2003 - J. Delumeau, O Pecado e o Medo. A culpabilizaęao no Oci-
dente (Séculos XIII-XVII), Bauru 2003.