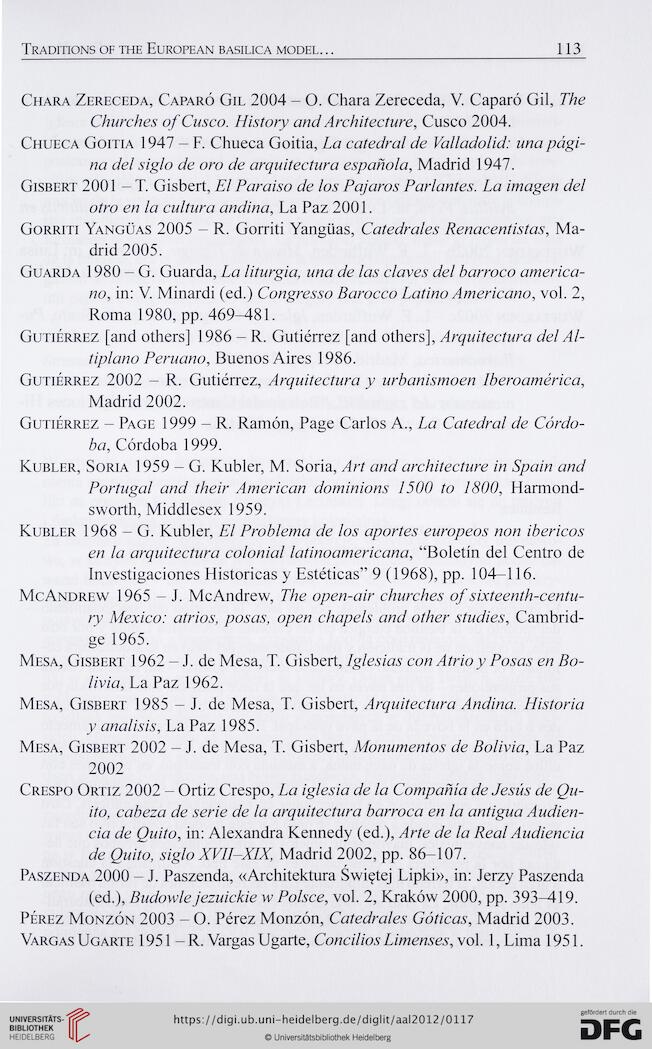 Traditions of the European basilica model. ..

113

Chara Zereceda, Caparó Gil 2004 - O. Chara Zereceda, V. Caparé Gil, The
Churches of Cusco. History and Architecture, Cusco 2004.
Chueca Goitia 1947 - F. Chueca Goitia, La catedral de Valladolid: una pági-
na del siglo de oro de arquitectura española, Madrid 1947.
Gisbert 2001 - T. Gisbert, El Paraíso de los Pajaros Parlantes. La imagen del
otro en la cultura andina, La Paz 2001.
Gorriti Yangüas 2005 - R. Gorriti Yangüas, Catedrales Renacentistas, Ma-
drid 2005.
Guarda 1980 — G. Guarda, La liturgia, una de las claves del barroco america-
no, in: V. Minardi (ed.) Congresso Barocco Latino Americano, vol. 2,
Roma 1980, pp. 469-481.
Gutiérrez [and others] 1986 - R. Gutiérrez [and others], Arquitectura del Al-
tiplano Peruano, Buenos Aires 1986.
Gutiérrez 2002 - R. Gutiérrez, Arquitectura y urbanismoen Iberoamérica,
Madrid 2002.
Gutiérrez - Page 1999 - R. Ramón, Page Carlos A., La Catedral de Córdo-
ba, Córdoba 1999.
Kubler, Soria 1959 - G. Kubler, M. Soria, Art and architecture in Spain and
Portugal and their American dominions 1500 to 1800, Harmond-
sworth, Middlesex 1959.
Kubler 1968 - G. Kubler, El Problema de los aportes europeos non ibéricos
en la arquitectura colonial latinoamericana, "Boletín del Centro de
Investigaciones Históricas y Estéticas" 9 (1968), pp. 104-116.
McAndrew 1965 - J. McAndrew, The open-air churches of sixteenth-centu-
ry Mexico: atrios, posas, open chapels and other studies, Cambrid-
ge 1965.
Mesa, Gisbert 1962 - J. de Mesa, T. Gisbert, Iglesias con Atrio y Posas en Bo-
livia, La Paz 1962.
Mesa, Gisbert 1985 - J. de Mesa, T. Gisbert, Arquitectura Andina. Historia
y análisis, La Paz 1985.
Mesa, Gisbert 2002 - J. de Mesa, T. Gisbert, Monumentos de Bolivia, La Paz
2002
Crespo Ortiz 2002 - Ortiz Crespo, La iglesia de la Compañía de Jesús de Qu-
ito, cabeza de serie de la arquitectura barroca en la antigua Audien-
cia de Quito, in: Alexandra Kennedy (ed.), Arte de la Real Audiencia
de Quito, siglo XVII-XIX, Madrid 2002, pp. 86-107.
Paszenda 2000 - J. Paszenda, «Architektura Świętej Lipki», in: Jerzy Paszenda
(ed.), Budowle jezuickie w Polsce, vol. 2, Kraków 2000, pp. 393-419.
Pérez Monzón 2003 - O. Pérez Monzón, Catedrales Góticas, Madrid 2003.
Vargas Ugarte 1951 - R. Vargas Ugarte, Concilios Limenses, vol. 1, Lima 1951.