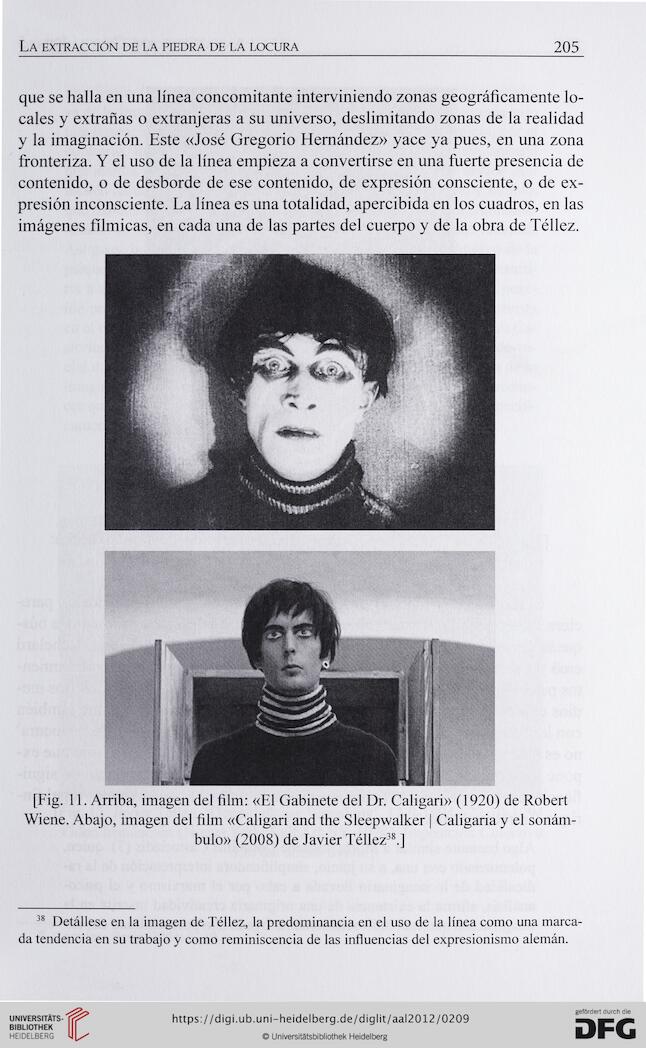 La extracción de la piedra de la locura

205

que se halla en una línea concomitante interviniendo zonas geográficamente lo-
cales y extrañas o extranjeras a su universo, deslimitando zonas de la realidad
y la imaginación. Este «José Gregorio Hernández» yace ya pues, en una zona
fronteriza. Y el uso de la línea empieza a convertirse en una fuerte presencia de
contenido, o de desborde de ese contenido, de expresión consciente, o de ex-
presión inconsciente. La línea es una totalidad, apercibida en los cuadros, en las
imágenes filmicas, en cada una de las partes del cuerpo y de la obra de Téllez.



[Fig. 11. Arriba, imagen del film: «El Gabinete del Dr. Caligari» (1920) de Robert
Wiene. Abajo, imagen del film «Caligari and the Sleepwalker | Caligaria y el sonám-
bulo» (2008) de Javier Téllez38.]

38 Detállese en la imagen de Téllez, la predominancia en el uso de la línea como una marca-
da tendencia en su trabajo y como reminiscencia de las influencias del expresionismo alemán.