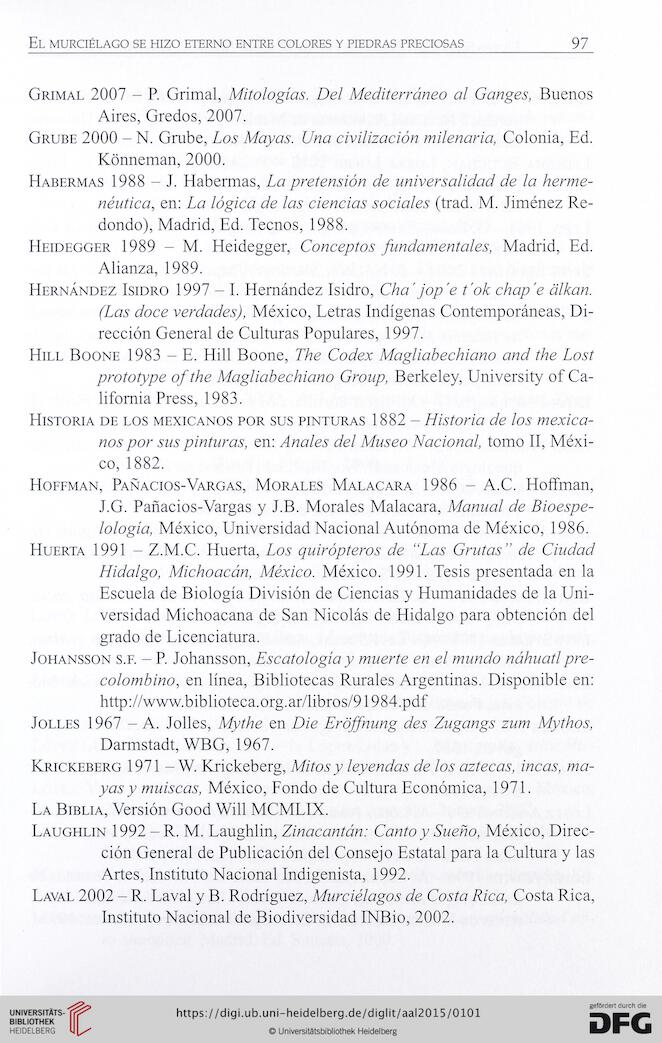 97

Grimal 2007 - P. Grimal, Mitologías. Del Mediterráneo al Ganges, Buenos
Aires, Gredos, 2007.
Grube 2000 - N. Grube, Los Mayas. Una civilización milenaria, Colonia, Ed.
Kónneman, 2000.
Habermas 1988 - J. Habennas, La pretensión de universalidad de la herme-
néutica, en: La lógica de las ciencias sociales (trad. M. Jiménez Re-
dondo), Madrid, Ed. Tecnos, 1988.
Heidegger 1989 - M. Heidegger, Conceptos fundamentales, Madrid, Ed.
Alianza, 1989.
Hernández Isidro 1997 - I. Hernández Isidro, Cha' jop'e t'ok chap'e alkan.
(Las doce verdades), México, Letras Indígenas Contemporáneas, Di-
rección General de Culturas Populares, 1997.
Hill Boone 1983 - E. Hill Boone, The Codex Magliabechiano and the Lost
prototype of the Magliabechiano Group, Berkeley, University of Ca-
lifornia Press, 1983.
Historia de los mexicanos por sus pinturas 1882 - Historia de los mexica-
nos por sus pinturas, en: Anales del Museo Nacional, tomo II, Méxi-
co, 1882.
Hoffman, Pañacios-Vargas, Morales Malacara 1986 - A.C. Hoffman,
J.G. Pañacios-Vargas y J.B. Morales Malacara, Manual de Bioespe-
lología, México, Universidad Nacional Autónoma de México, 1986.
Huerta 1991 - Z.M.C. Huerta, Los quirópteros de "Las Grutas" de Ciudad
Hidalgo, Michoacán, México. México. 1991. Tesis presentada en la
Escuela de Biología División de Ciencias y Humanidades de la Uni-
versidad Michoacana de San Nicolás de Hidalgo para obtención del
grado de Licenciatura.
Johansson s.f. - P. Johansson, Escatología y muerte en el mundo náhuatl pre-
colombino, en línea, Bibliotecas Rurales Argentinas. Disponible en:
http://www.biblioteca.org.ar/libros/91984.pdf
Jolles 1967 - A. Jolles, Mythe en Die Erdffnung des Zugangs zum Mythos,
Darmstadt, WBG, 1967.
Krickeberg 1971 -W. Krickeberg, Mitos y leyendas de los aztecas, incas, ma-
yas y muiscas, México, Fondo de Cultura Económica, 1971.
La Biblia, Versión Good Will MCMLIX.
Laughlin 1992 - R. M. Laughlin, Zinacantán: Canto y Sueño, México, Direc-
ción General de Publicación del Consejo Estatal para la Cultura y las
Artes, Instituto Nacional Indigenista, 1992.
Laval 2002 - R. Laval y B. Rodríguez, Murciélagos de Costa Rica, Costa Rica,
Instituto Nacional de Biodiversidad INBio, 2002.