Deo Ter Opt. Max. Auspice Anno MDCCLXXV. Die VII. Septembris, Hora Octava Matutina Auctoritate ... Dominorum Rupertorum Senioris, Junioris, Et Praejunioris, Comitum Palatinorum ad Rhenum, ... Beatissimae Memoriae Principum, Nec Non ... D. Caroli Theodori, ... Comitis Palatini ad Rhenum, S. R. I. Archi-Thesaurarii Et Electoris, ..., Domini Nostri ... Post Collatam Licentiam Ab ... Pro-Cancellario ... D. Francisco Ignatio Wedekind, U. J. D. ... Juris Publici Professore Publico Et Ordinario ...: Ex Authentico Subtilis Facultatis Decreto ... D. Josephus Agricola, Philosophiae Magister, Ejusdem in ... Universitate Heidelbergensi Prof. Publ. Et Ordinarius ... Et Universitatis Rector Magnificus Illustres ... Dominos I. D. Carol. Joseph. Christenfels, Heidelberg, ... Utriusque Laureae Philosophicae Candidatos Promeritis Baccalaureatus Et Doctoratus Philosophici Insignibus More Majorum Ritu Solenni Condecorabit, In Aula Academica ...
Heidelbergae, 1775 [VD18 14278502]
Citation link: https://digi.ub.uni-heidelberg.de/diglit/agricola1775
URN: urn:nbn:de:bsz:16-diglit-293866
DOI: https://doi.org/10.11588/diglit.29386
Metadata: METS
IIIF Manifest: https://digi.ub.uni-heidelberg.de/diglit/iiif/agricola1775/manifest.json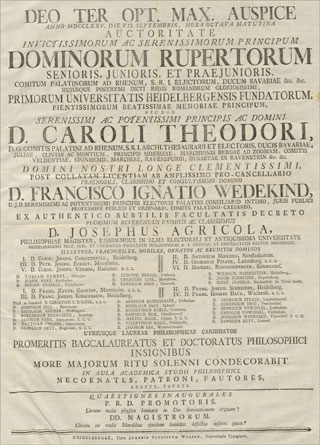 There are annotations to this facsimile. Individual pages with annotations are marked in "Overview" with the symbol .
Content