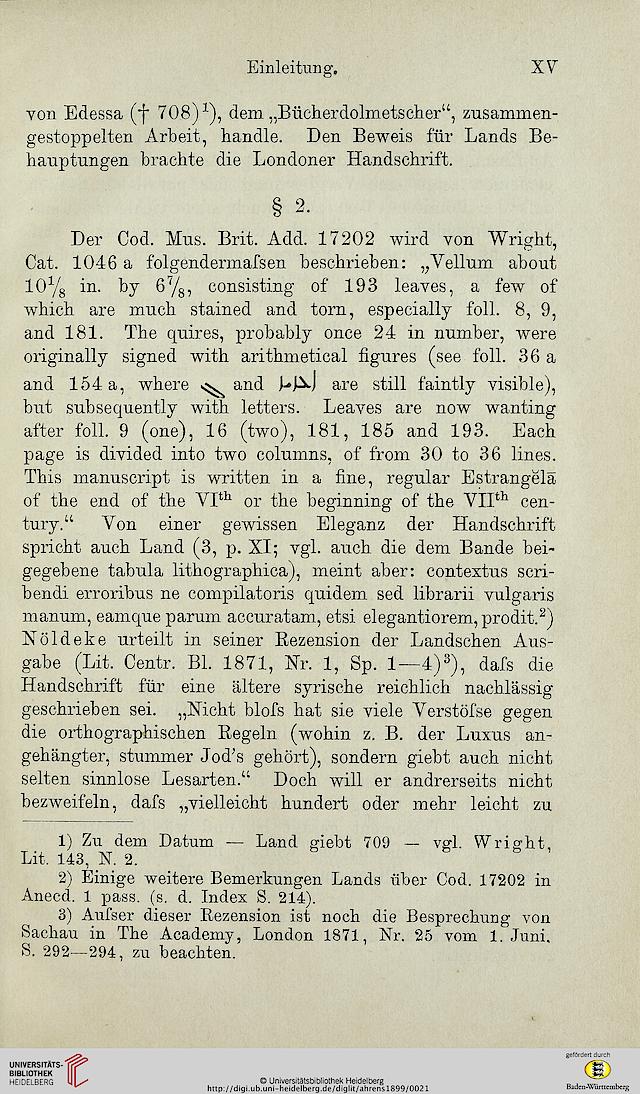 XV

von Edessa (*j* 708) *), dem "Büeherdolmetscher", zusammen-
gestöppelten Arbeit, handle. Den Beweis für Lands Be-
hauptungen brachte die Londoner Handschrift.

§ 2.

Der Cod. Mus. Brit. Add. 17202 wird von Wright,
Cat. 1046 a folgendermafsen beschrieben: "Vellum about
10yg in. by 67/8, consisting of 193 leaves, a few of
which are rnuch stained and torn, especially foll. 8, 9,
and 181. The quires, probably once 24 in number, were
originally signed with arithmetical figures (see foll. 36 a

and 154a, where and are still faintly visible),

but subsequently with letters. Leaves are now wanting
after foll. 9 (one), 16 (two), 181, 185 and 193. Each
page is divided into two columns. of from 30 to 36 lines.
This manuscript is written in a fine, regulär Estrangelä
of the end of the VIth or the beginning of the VIIth Cen-
tury." Von einer gewissen Eleganz der Handschrift
spricht auch Land (3, p. XI; vgl. auch die dem Bande bei-
gegebene tabula lithographica), meint aber: contextus scri-
bendi erroribus ne compilatoris quidem sed librarii vulgaris
manum, eamque parum accuratam, etsi elegantiorem,prodit.2)
Nöldeke urteilt in seiner Bezension der Landschen Aus-
gabe (Lit. Centr. Bl. 1871, Nr. 1, Sp. 1—4)3), dafs die
Handschrift für eine ältere syrische reichlich nachlässig
geschrieben sei. "Nicht blofs hat sie viele Verstöfse gegen
die orthographischen Regeln (wohin z. B. der Luxus an-
gehängter, stummer Jod's gehört), sondern giebt auch nicht
selten sinnlose Lesarten." Doch will er andrerseits nicht
bezAveifeln, dafs "vielleicht hundert oder mehr leicht zu

1) Zu dem Datum — Land giebt 709 — vgl. Wright,
Lit. 143, N. 2.

2) Einige weitere Bemerkungen Lands über Cod. 17202 in
Anecd. 1 pass. (s. d. Index S. 214).

3) Aufser dieser Rezension ist noch die Besprechung von
Sachau in The Academy, London 1871, Nr. 25 vom 1. Juni.
S. 292—294, zu beachten.