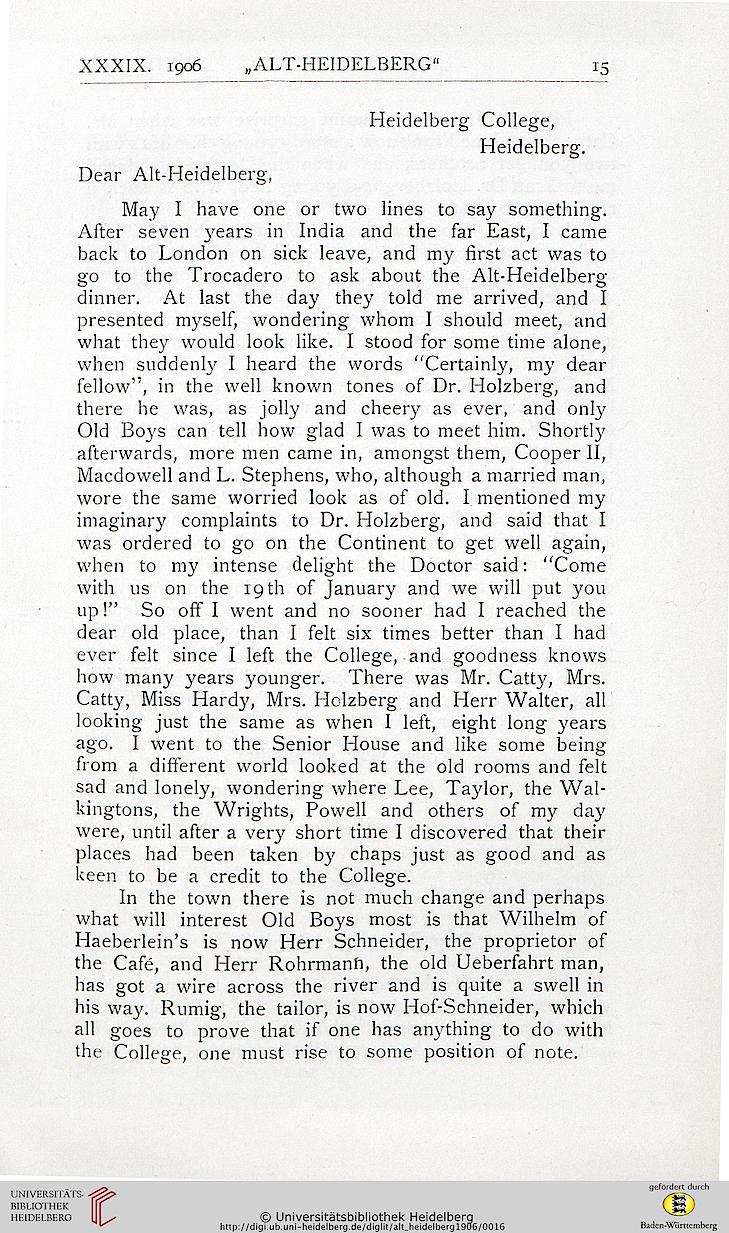 '5

Heidelberg College,

Heidelberg.

Dear Alt-Heidelberg,

May I have one or two lines to say something.
After seven years in India and the far East, I came
back to London on sick leave, and my first act was to
go to the Trocadero to ask about the Alt-Heidelberg
dinner. At last the day they told me arrived, and I
presented myself, wondering whom I should meet, and
what they would look like. I stood for some time alone,
when suddenly I heard the words "Certainly, my dear
fellow", in the well known tones of Dr. Holzberg, and
there he was, as jolly and cheery as ever, and only
Old Boys can tell how glad I was to meet him. Shortly
afterwards, more men came in, amongst them, Cooper II,
Macdowell and L. Stephens, who, although a married man,
wore the same worried look as of old. I mentioned my
imaginary complaints to Dr. Holzberg, and said that I
was ordered to go on the Continent to get well again,
when to my intense delight the Doctor said: "Come
with us on the 19 th of January and we will put you
up!" So off I went and no sooner had I reached the
dear old place, than I felt six times better than I had
ever felt since I left the College, and goodness knows
how many years younger. There was Mr. Catty, Mrs.
Catty, Miss Hard}', Mrs. Holzberg and Herr Walter, all
looking just the same as when I left, eight long years
ago. I went to the Senior House and like some being
from a different world looked at the old rooms and felt
sad and lonely, wondering where Lee, Taylor, the Wal-
kingtons, the Wrights, Powell and others of my day
were, until after a very short time I discovered that then-
places had been taken by chaps just as good and as
keen to be a credit to the College.

In the town there is not much change and perhaps
what will interest Old Boys most is that Wilhelm of
Haeberlein's is now Herr Schneider, the proprietor of
the Cafe, and Herr Rohrmann, the old Ueberfahrt man,
has got a wire across the river and is quite a swell in
his way. Rumig, the tailor, is now Hof-Schneider, which
all goes to prove that if one has anything to do with
the College, one must rise to some position of note.