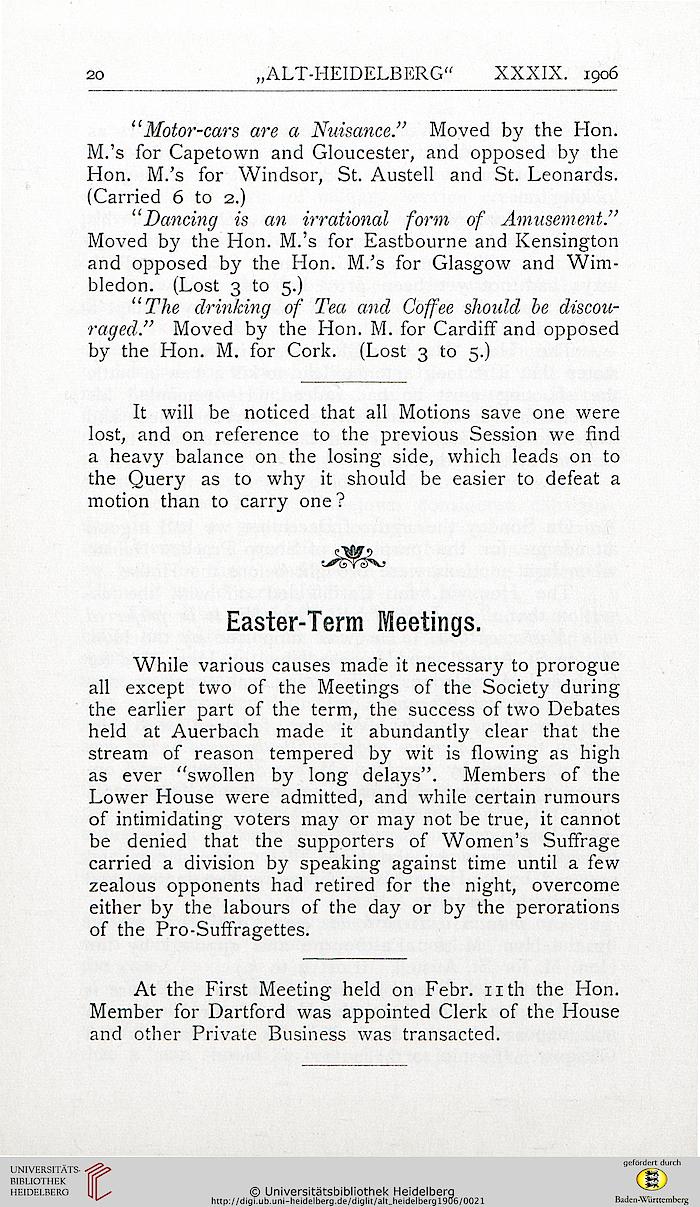 "ALT-HEIDELBERG" XXXIX. 1906

"Motor-cars are a Nuisance." Moved by the Lion.
M.'s for Capetown and Gloucester, and opposed by the
Hon. M.'s for Windsor, St. Austell and St. Leonards.
(Carried 6 to 2.)

"Dancing is an irrational form of Amusement."
Moved by the Hon. M.'s for Eastbourne and Kensington
and opposed by the Hon. M.'s for Glasgow and Wim-
bledon. (Lost 3 to 5.)

"The drinking of Tea and Coffee should be discou-
raged." Moved by the Hon. M. for Cardiff and opposed
by the Hon. M. for Cork. (Lost 3 to 5.)

It will be noticed that all Motions save one were
lost, and on reference to the previous Session we find
a heavy balance on the losing side, which leads on to
the Query as to why it should be easier to defeat a
motion than to carry one ?

Easter-Term Meetings.

While various causes made it necessary to prorogue
all except two of the Meetings of the Society during
the earlier part of the term, the success of two Debates
held at Auerbach made it abundantly clear that the
stream of reason tempered by wit is flowing as high
as ever "swollen by long delays". Members of the
Lower House were admitted, and while certain rumours
of intimidating voters may or may not be true, it cannot
be denied that the supporters of Women's Suffrage
carried a division by speaking against time until a few
zealous opponents had retired for the night, overcome
either by the labours of the day or by the perorations
of the Pro-Suffragettes.

At the First Meeting held on Febr. nth the Hon.
Member for Dartford was appointed Clerk of the House
and other Private Business was transacted.