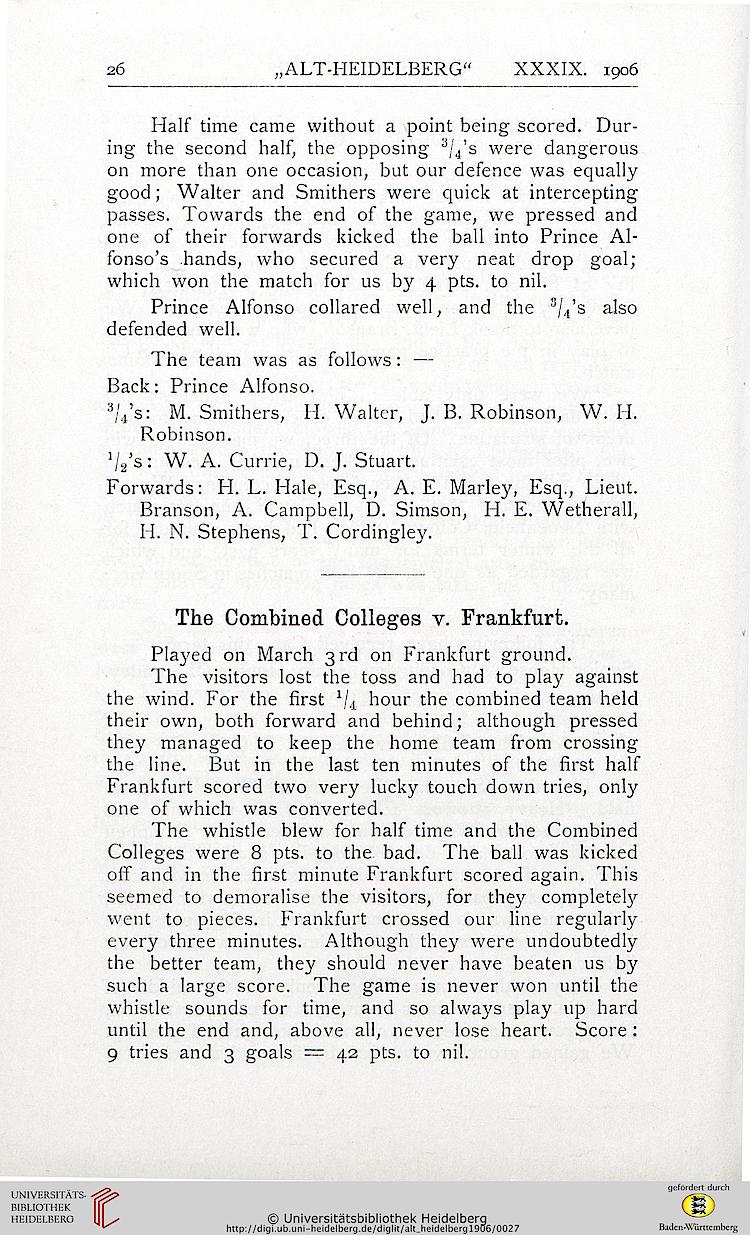 "ALT-HEIDELBERG" XXXIX. 1906

Half time came without a point being scored. Dur-
ing the second half, the opposing 3/4's were dangerous
on more than one occasion, but our defence was equally
good ; Walter and Smithers were quick at intercepting
passes. Towards the end of the game, we pressed and
one of their forwards kicked the ball into Prince Al-
fonso's hands, who secured a very neat drop goal;
which won the match for us by 4 pts. to nil.

Prince Alfonso collared well, and the s/4's also
defended well.

The team was as follows : —
Back: Prince Alfonso.

3,Vs: M. Smithers, II. Walter, J.B.Robinson, W.U.
Robinson.

'/Vs: W. A. Currie, D. J. Stuart.

Forwards: H. L. Hale, Esq., A. E. Marley, Esq., Lieut.
Branson, A. Campbell, D. Simson, H. E. Wetherall,
H. N. Stephens, T. Cordingley.

The Combined Colleges v. Frankfurt.

Played on March 3rd on Frankfurt ground.

The visitors lost the toss and had to play against
the wind. For the first 1ji hour the combined team held
their own, both forward and behind; although pressed
they managed to keep the home team from crossing
the line. But in the last ten minutes of the first half
Frankfurt scored two very lucky touch down tries, only
one of which was converted.

The whistle blew for half time and the Combined
Colleges were 8 pts. to the bad. The ball was kicked
off and in the first minute Frankfurt scored again. This
seemed to demoralise the visitors, for they completely
went to pieces. Frankfurt crossed our line regularly
every three minutes. Although they were undoubtedly
the better team, they should never have beaten us by
such a large score. The game is never won until the
whistle sounds for time, and so always play up hard
until the end and, above all, never lose heart. Score :
9 tries and 3 goals = 42 pts. to nil.