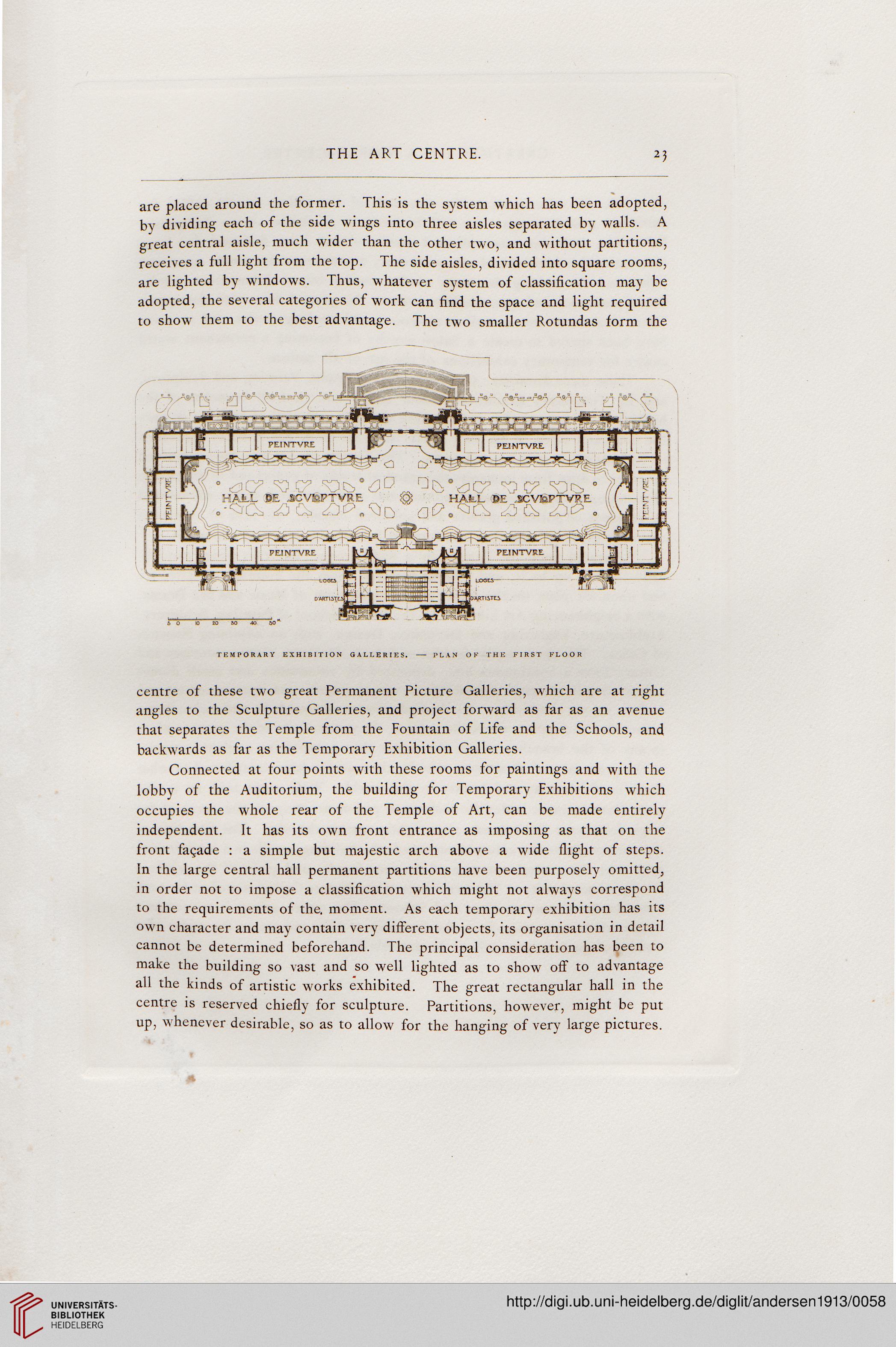 are placed around the former. This is the system which has been adopted,
by dividing each of the side wings into three aisles separated by walls. A
great central aisle, much wider than the other two, and without partitions,
receives a full light from the top. The side aisles, divided into square rooms,
are lighted by windows. Thus, whatever system of classification may be
adopted, the several categories of work can find the space and light required
to show them to the best advantage. The two smaller Rotundas form the

5 0 10 20 50 40 50

TEMPORARY EXHIBITION GALLERIES. - PLAN OK THE FIRST FLOOR

centre of these two great Permanent Picture Galleries, which are at right
angles to the Sculpture Galleries, and project forward as far as an avenue
that separates the Temple from the Fountain of Life and the Schools, and
backwards as far as the Temporary Exhibition Galleries.

Connected at four points with these rooms for paintings and with the
lobby of the Auditorium, the building for Temporary Exhibitions which
occupies the whole rear of the Temple of Art, can be made entirely
independent. It has its own front entrance as imposing as that on the
front fagade : a simple but majestic arch above a wide flight of steps.
In the large central hall permanent partitions have been purposely omitted,
in order not to impose a classification which might not always correspond
to the requirements of the. moment. As each temporary exhibition has its
own character and may contain very different objects, its organisation in detail
cannot be determined beforehand. The principal consideration has been to
make the building so vast and so well lighted as to show off to advantage
all the kinds of artistic works exhibited. The great rectangular hall in the
centre is reserved chiefly for sculpture. Partitions, however, might be put
up, whenever desirable, so as to allow for the hanging of very large pictures.