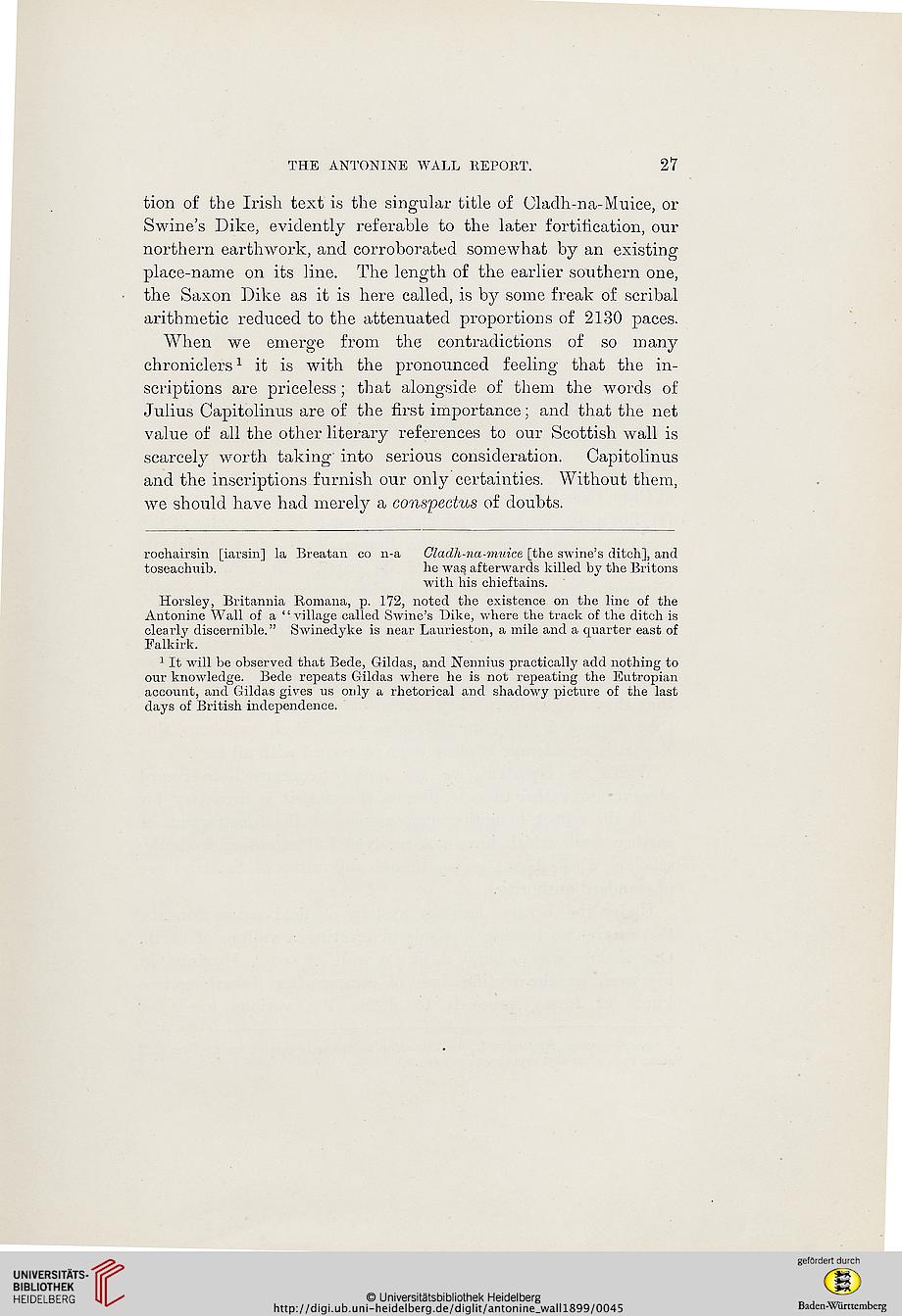 27

fcion of the Irish text is the singular title of Cladh-na-Muice, or
Swine's Dike, evidently referable to the later fortification, our
northern earthwork, and corroborated somewhat by an existing
place-name on its line. The length of the earlier southern one,
the Saxon Dike as it is here called, is by some freak of scribal
arithmetic reduced to the attenuated proportions of 2130 paces.

When we emerge from the contradictions of so many
chroniclers1 it is with the pronounced feeling that the in-
scriptions are priceless ; that alongside of them the words of
Julius Capitolinus are of the first importance; and that the net
value of all the other literary references to our Scottish wall is
scarcely worth taking into serious consideration. Capitolinus
and the inscriptions furnish our only certainties. Without them,
we should have had merely a conspectus of doubts.

rochairsin [iarsin] la Breatan co n-a
toseachuib.

Cladh-na-muice [the swine's ditch], and
he was afterwards killed by the Britons
with his chieftains.

Horsley, Britannia Romana, p. 172, noted the existence on the line of the
Antonine Wall of a "village called Swine's Dike, where the track of the ditch is
clearly discernible." Swinedyke is near Laurieston, a mile and a quarter east of
Falkirk.

1 It will be observed that Bede, Gildas, and Nennius practically add nothing to
our knowledge. Bede repeats Gildas where he is not repeating the Eutropian
account, and Gildas gives us only a rhetorical and shadowy picture of the last
days of British independence.