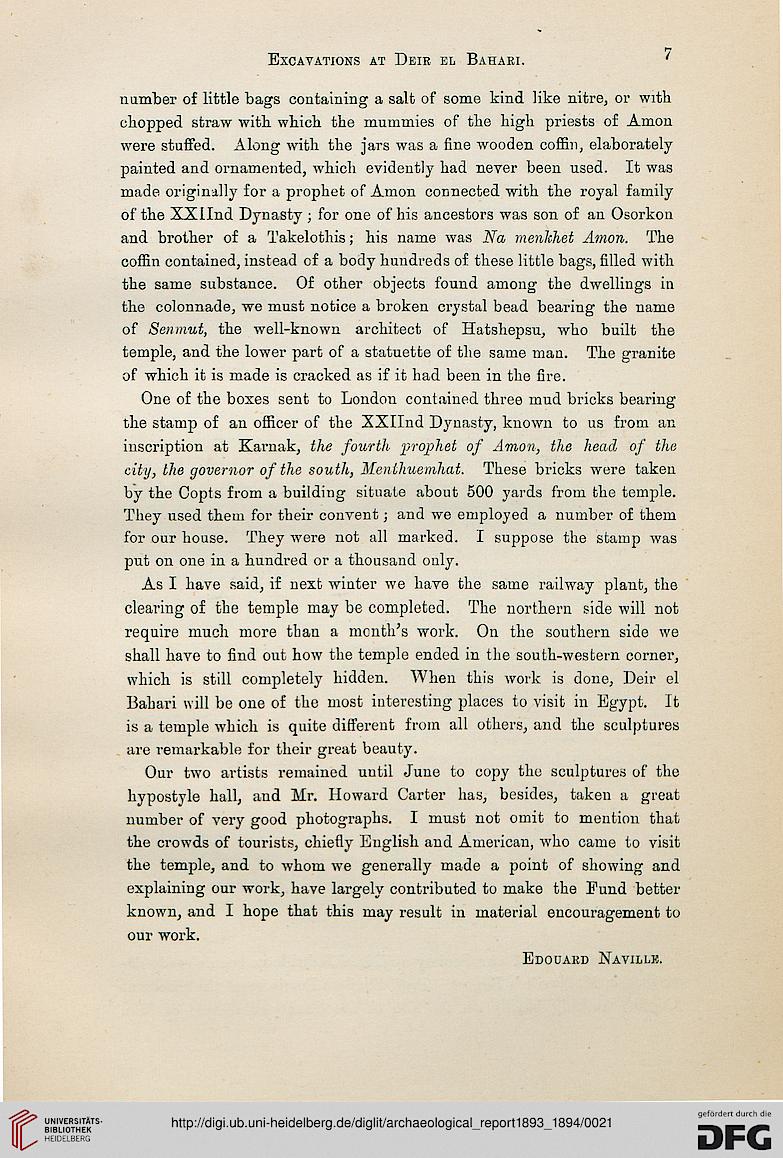 7

number of little bags containing a salt of some kind like nitre, or with
chopped straw with which the mummies of the high priests of Amon
were stuffed. Along with the jars was a fine wooden coffin, elaborately
painted and ornamented, which evidently had never been used. It was
made originally for a prophet of Amon connected with the royal family
of the XXIInd Dynasty ; for one of his ancestors was son of an Osorkon
and brother of a Takelothis; his name was Na menkhet Amon. The
coffin contained, instead of a body hundreds of these little bags, filled with
the same substance. Of other objects found among the dwellings in
the colonnade, we must notice a broken crystal bead bearing the name
of Senmut, the well-known architect of Hatshepsu, who built the
temple, and the lower part of a statuette of the same man. The granite
of which it is made is cracked as if it had been in the fire.

One of the boxes sent to London contained three mud bricks bearing
the stamp of an officer of the XXIInd Dynasty, known to us from an
inscription at Karnak, the fourth prophet of Amon, the head of the
city, the governor of the south, Menihuemhat. These bricks were taken
by the Copts from a building situate about 500 yards from the temple.
They used them for their convent; and we employed a number of them
for our house. They were not all marked. I suppose the stamp was
put on one in a hundred or a thousand only.

As I have said, if next winter we have the same railway plant, the
clearing of the temple may be completed. The northern side will not
require much more than a month's work. On the southern side we
shall have to find out how the temple ended in the south-western corner,
which is still completely hidden. When this work is done, Deir el
Bahari will be one of the most interesting places to visit in Egypt. It
is a temple which is quite different from all others, and the sculptures
are remarkable for their great beauty.

Our two artists remained until June to copy the sculptures of the
hypostyle hall, and Mr. Howard Carter has, besides, taken a great
number of very good photographs. I must not omit to mention that
the crowds of tourists, chiefly English and American, who came to visit
the temple, and to whom we generally made a point of showing and
explaining our work, have largely contributed to make the Fund better
known, and I hope that this may result in material encouragement to
our work.

Edouakd Navillk.