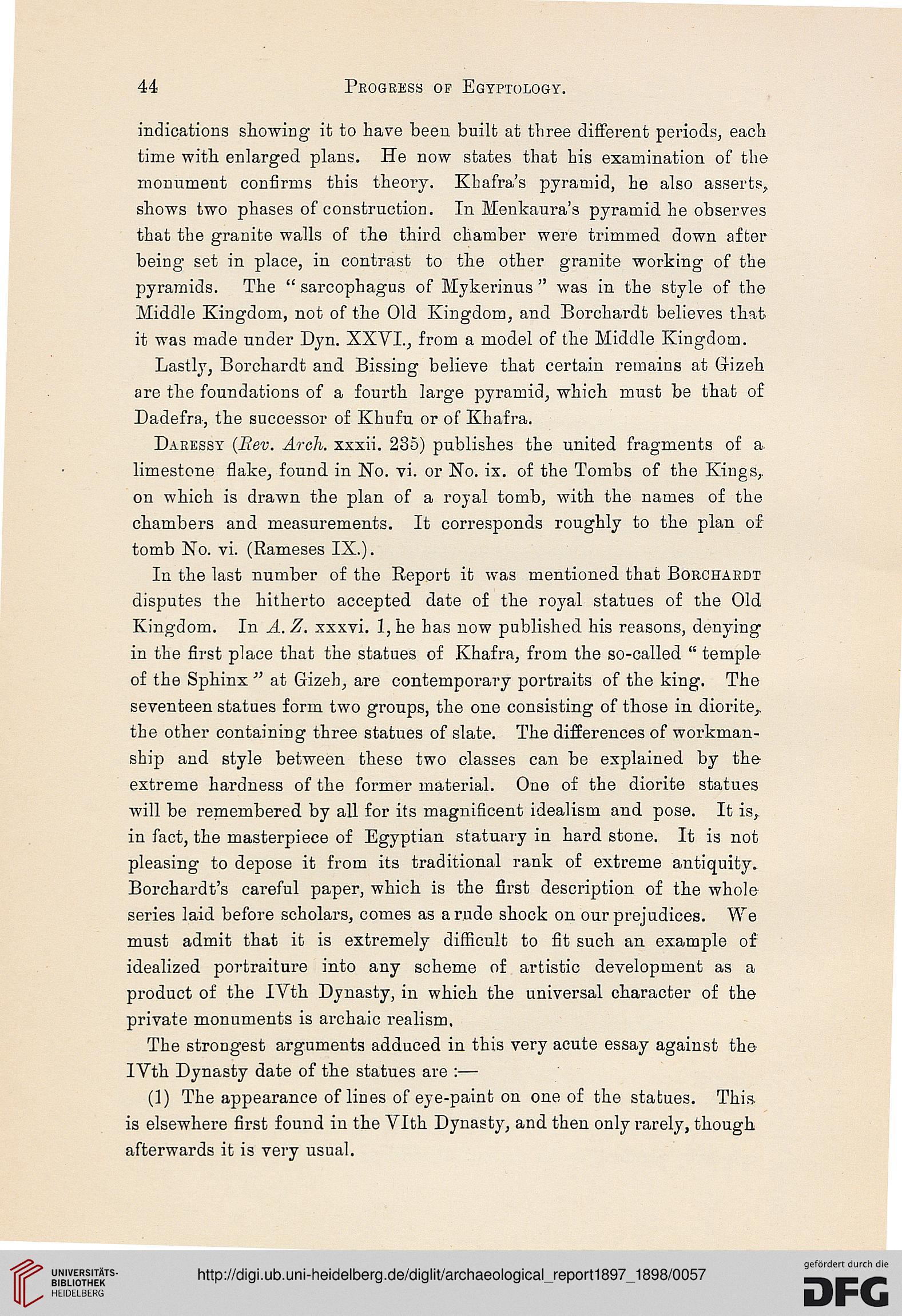 Progress of Egyptology.

indications showing it to have been built at three different periods, each
time with enlarged plans. He now states that his examination of the
monument confirms this theory. Khafra's pyramid, he also asserts,
shows two phases of construction. In Menkaura's pyramid he observes
that the granite walls of the third chamber were trimmed down after
being set in place, in contrast to the other granite working of the
pyramids. The " sarcophagus of Mykerinus " was in the style of the
Middle Kingdom, not of the Old Kingdom, and Borchardt believes that
it was made under Dyn. XXVI., from a model of the Middle Kingdom.

Lastly, Borchardt and Bissing believe that certain remains at (lizeh
are the foundations of a fourth large pyramid, which must be that of
Dadefra, the successor of Khufu or of Khafra.

Daressy (Bev. Arch, xxxii. 235) publishes the united fragments of a
limestone flake, found in No. vi. or No. ix. of the Tombs of the Kings,
on which is drawn the plan of a royal tomb, with the names of the
chambers and measurements. It corresponds roughly to the plan of
tomb No. vi. (Rameses IX.).

In the last number of the Report it was mentioned that Borchardt
disputes the hitherto accepted date of the royal statues of the Old
Kingdom. In A. Z. xxxvi. 1, he has now published his reasons, denying
in the first place that the statues of Khafra, from the so-called " temple
of the Sphinx " at Gizeh, are contemporary portraits of the king. The
seventeen statues form two groups, the one consisting of those in diorite,.
the other containing three statues of slate. The differences of workman-
ship and style between these two classes can be explained by the
extreme hardness of the former material. One of the diorite statues
will be remembered by all for its magnificent idealism and pose. It is,
in fact, the masterpiece of Egyptian statuary in hard stone. It is not
pleasing to depose it from its traditional rank of extreme antiquity.
Borchardt's careful paper, which is the first description of the whole
series laid before scholars, comes as a rude shock on our prejudices. We
must admit that it is extremely difficult to fit such an example of
idealized portraitui'e into any scheme of artistic development as a
product of the IVth Dynasty, in which the universal character of the
private monuments is archaic realism.

The strongest arguments adduced in this very acute essay against the
IVth Dynasty date of the statues are :—

(1) The appearance of lines of eye-paint on one of the statues. This,
is elsewhere first found in the Vlth Dynasty, and then only rarely, though
afterwards it is very usual.