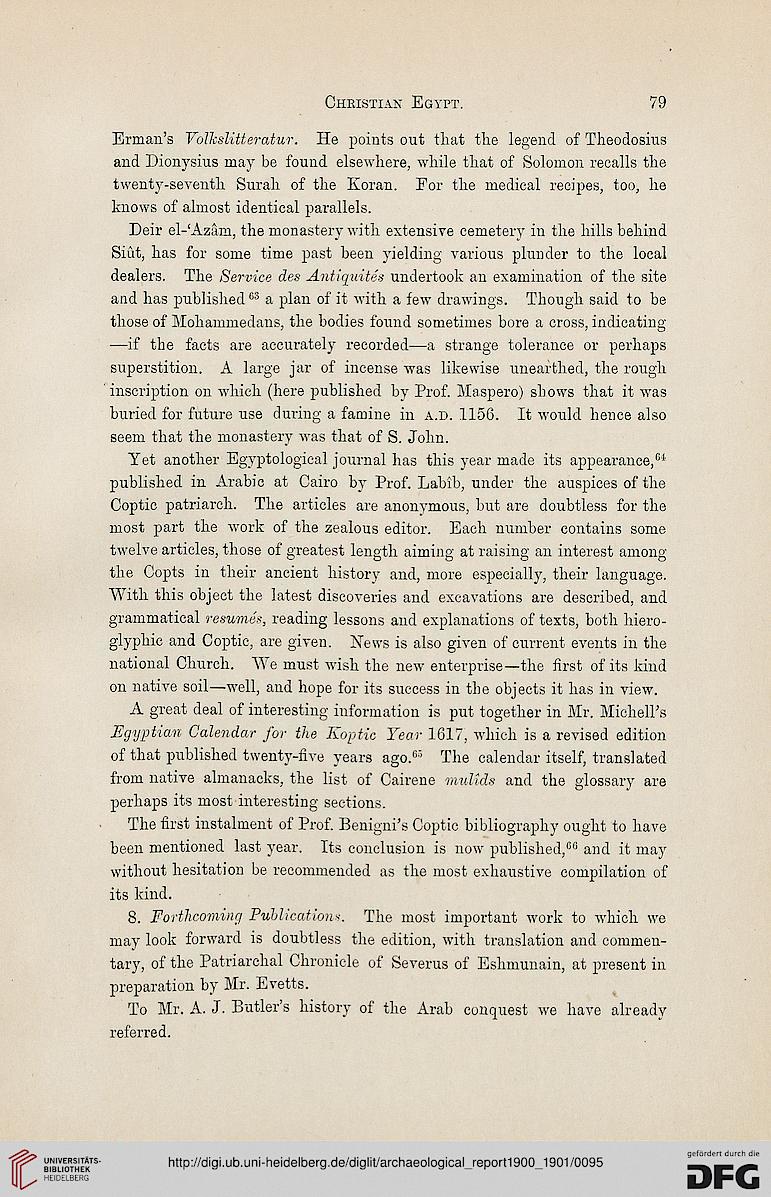 79

Erman's VolJcslitteratur. He points out that the legend of Theodosius
and Dionysius may be found elsewhere, while that of Solomon recalls the
twenty-seventh Surah of the Koran. For the medical recipes, too, he
knows of almost identical parallels.

Deir el-'Azam, the monastery with extensive cemetery in the hills behind
Suit, has for some time past been yielding various plunder to the local
dealers. The Service des Antiquites undertook an examination of the site
and has published03 a plan of it with a few drawings. Though said to be
those of Mohammedans, the bodies found sometimes bore a cross, indicating
—if the facts are accurately recorded—a strange tolerance or perhaps
superstition. A large jar of incense was likewise unearthed, the rough
inscription on which (here published by Prof. Maspero) snows that it was
buried for future use during a famine in a.d. 1156. It would hence also
seem that the monastery was that of S. John.

Yet another Egyptological journal has this year made its appearance,01
published in Arabic at Cairo by Prof. Labib, under the auspices of the
Coptic patriarch. The articles are anonymous, but are doubtless for the
most part the work of the zealous editor. Each number contains some
twelve articles, those of greatest length aiming at raising an interest among
the Copts in their ancient history and, more especially, their language.
With this object the latest discoveries and excavations are described, and
grammatical resume*, reading lessons and explanations of texts, both hiero-
glyphic and Coptic, are given. News is also given of current events in the
national Church. We must wish the new enterprise—the first of its kind
on native soil—well, and hope for its success in the objects it has in view.

A great deal of interesting information is put together in Mr. Michell's
Egyptian Calendar for the Koptic Year 1617, which is a revised edition
of that published twenty-five years ago.65 The calendar itself, translated
from native almanacks, the list of Cairene mulids and the glossary are
perhaps its most interesting sections.

The first instalment of Prof. Benigni's Coptic bibliography ought to have
been mentioned last year. Its conclusion is now published,00 and it may
without hesitation be recommended as the most exhaustive compilation of
its kind.

8. Forthcoming Publication*. The most important work to which we
may look forward is doubtless the edition, with translation and commen-
tary, of the Patriarchal Chronicle of Severus of Eshmunain, at present in
preparation by Mr. Evetts.

To Mr. A. J. Butler's history of the Arab conquest we have already
referred.