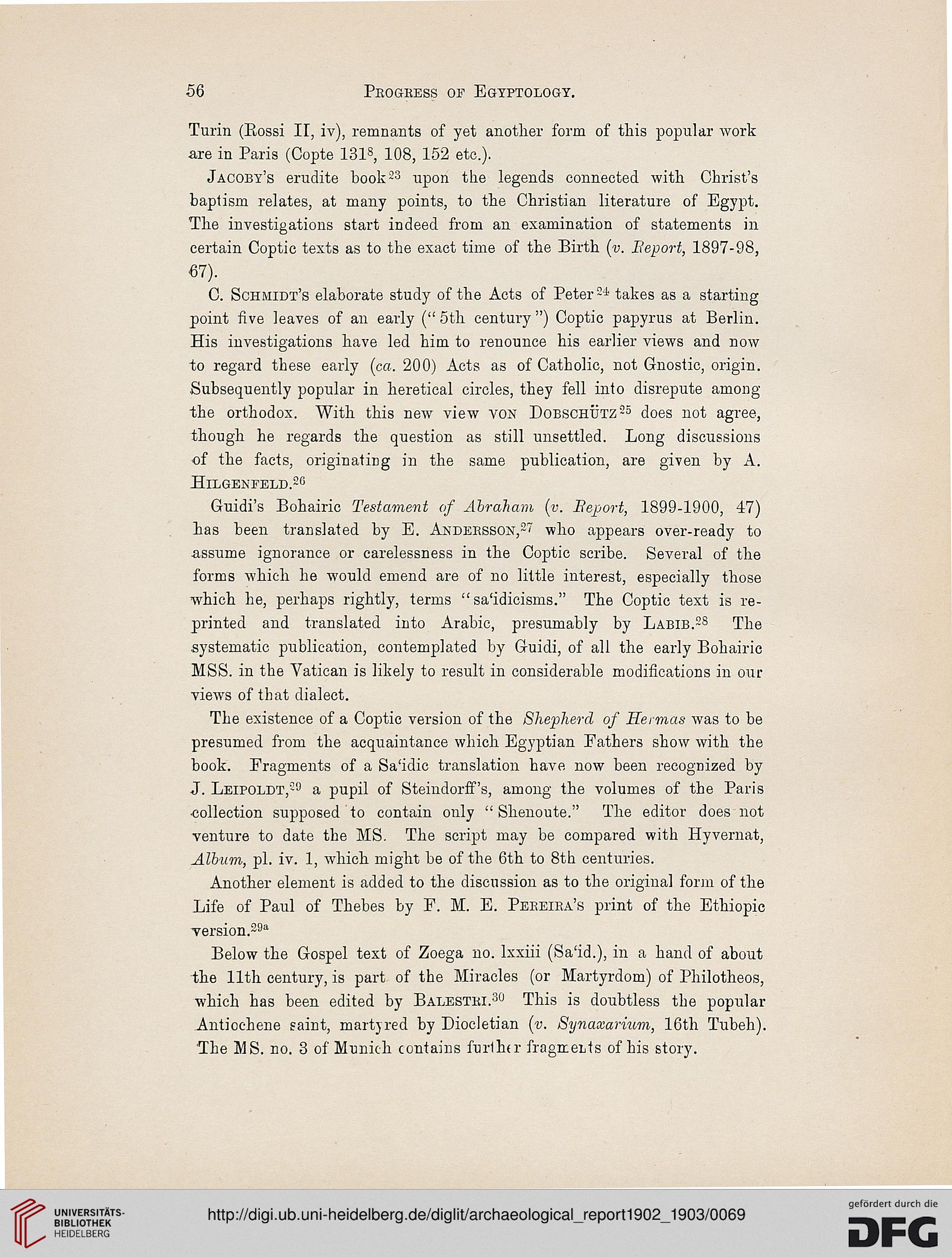 Progress of Egyptology.

Turin (Bossi IT, iv), remnants of yet another form of this popular work
are in Paris (Copte 131s, 108, 152 etc.).

Jacoby's erudite book23 upon the legends connected with Christ's
baptism relates, at many points, to the Christian literature of Egypt.
The investigations start indeed from an examination of statements in
certain Coptic texts as to the exact time of the Birth (v. Report, 1897-98,
€7).

C. Schmidt's elaborate study of the Acts of Peter24 takes as a starting
point five leaves of an early (" 5th century ") Coptic papyrus at Berlin.
His investigations have led him to renounce his earlier views and now
to regard these early (cci. 200) Acts as of Catholic, not Gnostic, origin.
Subsequently popular in heretical circles, they fell into disrepute among
the orthodox. With this new view von Dobschutz25 does not agree,
though he regards the question as still unsettled. Long discussions
of the facts, originating in the same publication, are given by A.

HlLGENFELD.20

Guidi's Bohairic Testament of Abraham (v. Report, 1899-1900, 47)
has been translated by E. Andersson,2' who appears over-ready to
-assume ignorance or carelessness in the Coptic scribe. Several of the
forms which he would emend are of no little interest, especially those
which he, perhaps rightly, terms " sa'idicisms." The Coptic text is re-
printed and translated into Arabic, presumably by Labib.2S The
systematic publication, contemplated by Guidi, of all the early Bohairic
MSS. in the Vatican is likely to result in considerable modifications in our
views of that dialect.

The existence of a Coptic version of the Shepherd of Hennas was to be
presumed from the acquaintance which Egyptian Fathers show with the
book. Fragments of a Sa'idic translation have now been recognized by
J. Leipoldt,29 a pupil of Steindorff's, among the volumes of the Paris
■collection supposed to contain only " Shenoute." The editor does not
venture to date the MS. The script may be compared with Hyvernat,
Album, pi. iv. 1, which might be of the 6th to 8th centuries.

Another element is added to the discussion as to the original form of the
Life of Paul of Thebes by F. M. E. Pereira's print of the Ethiopic
version.29*1

Below the Gospel text of Zoega no. lxxiii (Sa'id.), in a hand of about
the 11th century, is part of the Miracles (or Martyrdom) of Philotheos,
which has been edited by Balestri.30 This is doubtless the popular
Antiochene saint, martyred by Diocletian (v. Synaxarium, 16th Tubeh).
The MS. no. 3 of Munich contains further fragneLts of his story.