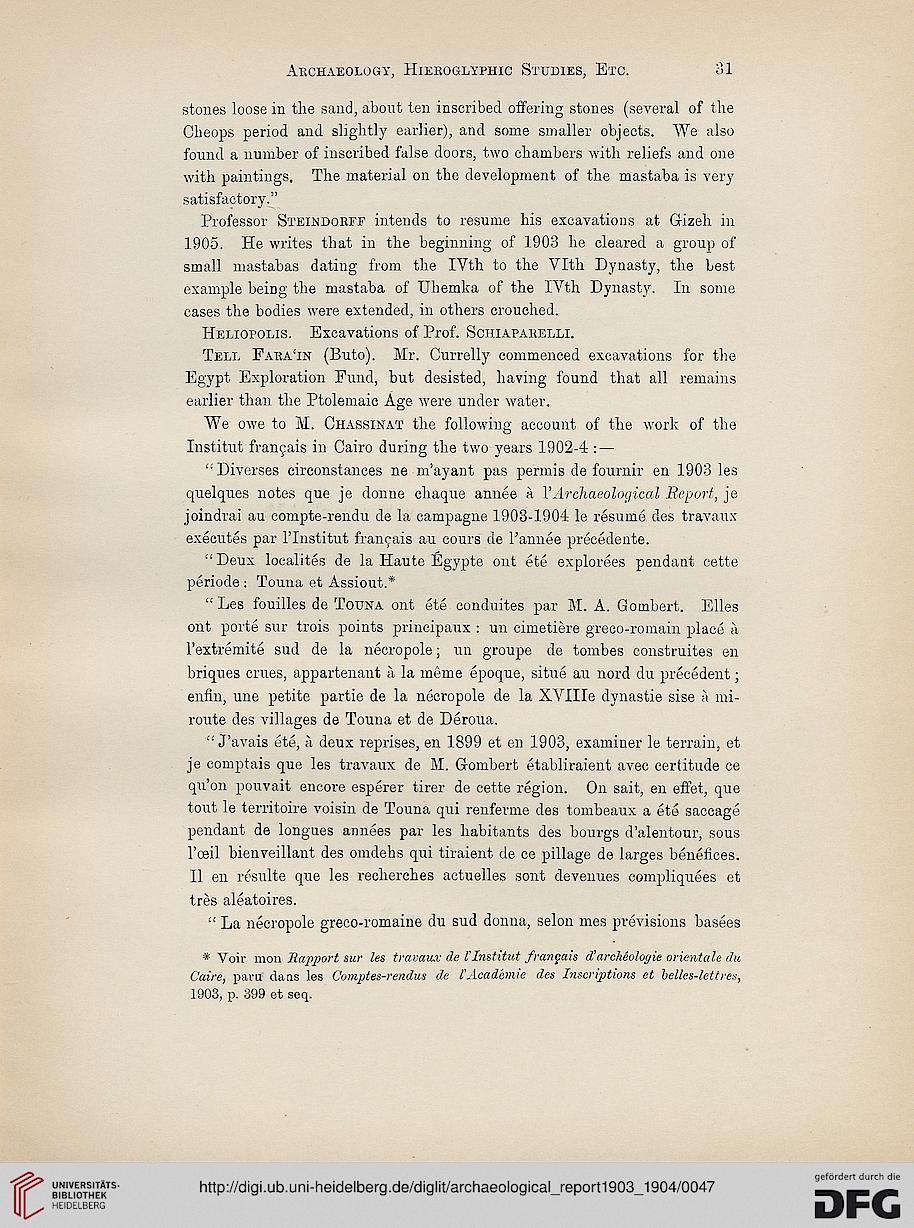 31

stones loose in the sand, about ten inscribed offering stones (several of the
Cheops period and slightly earlier), and some smaller objects. We also
found a number of inscribed false doors, two chambers with reliefs and one
with paintings. The material on the development of the mastaba is very
satisfactory."

Professor Steikdorff intends to resume his excavations at G-izeh in
1905. He writes that in the beginning of 1903 he cleared a group of
small niastabas dating from the IVth to the Vlth Dynasty, the best
example being the mastaba of Ubemka of the IVth Dynasty. In some
cases the bodies were extended, in others crouched.

Heliopolis. Excavations of Prof. Schiaparelli.

Tell Fara'in (Buto). Mr. Currelly commenced excavations for the
Egypt Exploration Fund, but desisted, having found that all remains
earlier than the Ptolemaic Age were under water.

We owe to M. Chassinat the following account of the work of the
Institut francais in Cairo during the two years 1902-4 : —

"Diverses circonstances ne m'ayant pas permis de fournir en 1903 les
quelques notes que je donue chaque annee a VArchaeological Report, je
joindrai au compte-rendu de la campagne 1903-1904 le resume des travaux
executes par l'lnstitut francais au cours de Fannee precedente.

':Deux localites de la Haute Egypte ont ete explorees pendant cette
periode : Touna et Assiout.*

"Les fouilles de Touna ont ete conduites par M. A. Gombert. Elles
ont porte sur trois points principaux : un cimetiere greco-romain place a
l'extremite sud de la necropole; un groupe de tombes construites en
briques crues, appartenant a la ineme epoque, situe au nord du precedent;
enfin, une petite partie de la necropole de la XVIIIe dynastie sise a mi-
route des villages de Touna et de Deroua.

" J'avais ete, ;\ deux reprises, en 1899 et en 1903, examiner le terrain, et
je comptais que les travaux de M. Gombert etabliraient avee certitude ce
qu'on pouvait encore esperer tirer de cette region. On sait, en effet, que
tout le territoire voisin de Touna qui renferme des tombeaux a ete saceage
pendant de longues annees par les habitants des bourgs d'alentour, sous
l'oeil bienveillant des omdehs qui tiraient de ce pillage de larges benefices.
II en rcsulte que les recherches actuelles sont devenues compliquees et
tres aleatoires.

" La necropole greco-romaine du sud donna, selon mes previsions basees

* Voir mon Rapport sur les travaux de VImtitut francais d' arclieologie orientale du
Caire, paru dans les Comptes-rendus de I'Academie des Inscriptions et belles-lettres,
1903, p. 399 et seq.