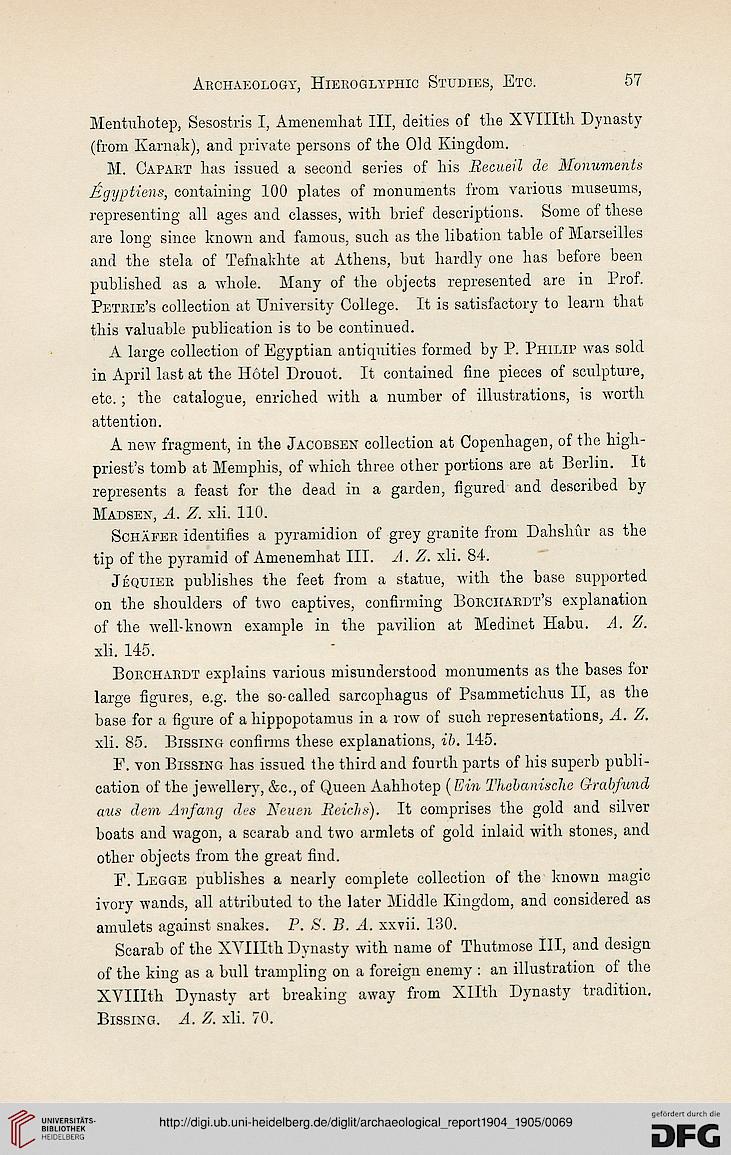 57

Mentuhotep, Sesostris I, Amenemhat III, deities of the XVIIIth Dynasty
(from Kamak), and private persons of the Old Kingdom.

M. Capart has issued a second series of his Recueil de Monuments
Egyptiens, containing 100 plates of monuments from various museums,
representing all ages and classes, with brief descriptions. Some of these
are long since known and famous, such as the libation table of Marseilles
and the stela of Tefnakhte at Athens, but hardly one has before been
published as a whole. Many of the objects represented are in Prof.
Petrie's collection at University College. It is satisfactory to learn that
this valuable publication is to be continued.

A large collection of Egyptian antiquities formed by P. Philip was sold
in April last at the Hotel Drouot. It contained fine pieces of sculpture,
etc.; the catalogue, enriched with a number of illustrations, is worth
attention.

A new fragment, in the Jacobsen collection at Copenhagen, of the high-
priest's tomb at Memphis, of which three other portions are at Berlin. It
represents a feast for the dead in a garden, figured and described by
Madsen, A. Z. xli. 110.

Schafer identifies a pyramidion of grey granite from Dahshur as the
tip of the pyramid of Amenemhat EEL A. Z. xli. 84.

JeQUIEB publishes the feet from a statue, with the base supported
on the shoulders of two captives, confirming Borchardt's explanation
of the well-known example in the pavilion at Medinet Habu. A. Z.
xli. 145.

Bobchardt explains various misunderstood monuments as the bases for
large figures, e.g. the so-called sarcophagus of Psammetichus II, as the
base for a figure of a hippopotamus in a row of such representations, A. Z.
xli. 85. Bissing confirms these explanations, ib. 145.

E. von Bissing has issued the third and fourth parts of his superb publi-
cation of the jewellery, &c, of Queen Aahhotep (Ein Thebanischc Grabfund
aus dem Avfang des Ncucn Reichs). It comprises the gold and silver
boats and wagon, a scarab and two armlets of gold inlaid with stones, and
other objects from the great find.

E. Legge publishes a nearly complete collection of the known magic
ivory wands, all attributed to the later Middle Kingdom, and considered as
amulets against snakes. P. S. B. A. xxvii. 130.

Scarab of the XYIIIth Dynasty with name of Thutmose III, and design
of the king as a bull trampling on a foreign enemy : an illustration of the
XVIIIth Dynasty art breaking away from Xllth Dynasty tradition.
Bissing. A. Z. xli. 70.