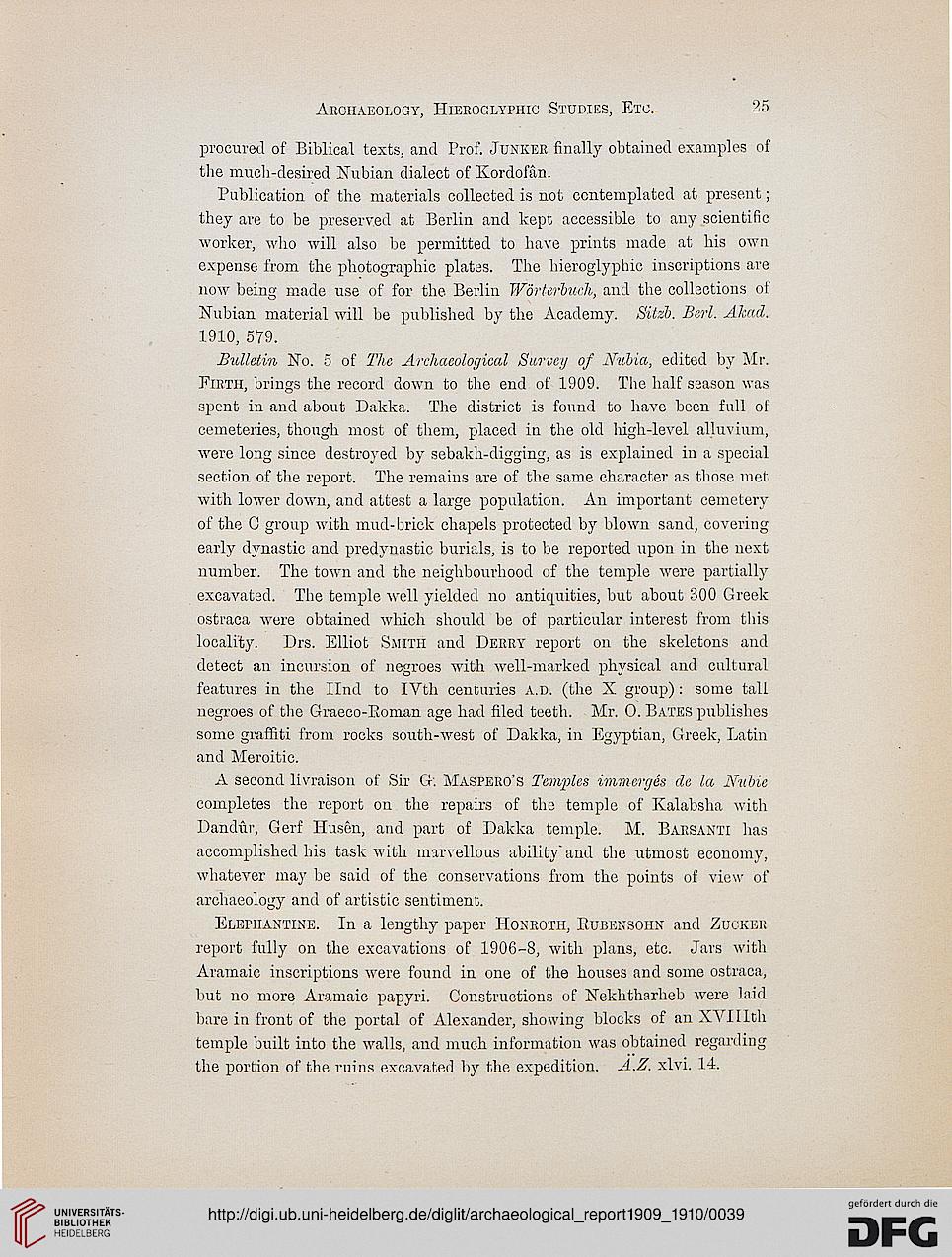 25

procurée! of Biblical texts, and Prof. Junker finally obtained examples of
the much-desired Nubian dialect of Kordofân.

Publication of the materials collected is not ccntemplated at présent ;
they are to be preserved at Berlin and kept accessible to any scientific
worker, wlio will also be permitted to bave prints made at bis own
expense from the photographie plates. The bieroglyphic inscriptions are
now being made use of for the Berlin Wôrterbuch, and the collections of
Nubian material will be publisbed by the Academy. Sitzb. Berl. Akad.
1910, 579.

Bulletin No. 5 of The Archacological Survey of Nnbia, edited by Mr.
Firth, brings the record down to the end of 1909. The half season was
spent in and about Dakka. The district is found to bave been full of
cemeteries, tbougb most of them, placed in the old high-level alluvium,
were long since desh'oyed by sebakh-digging, as is explained in a spécial
section of the report. The remains are of the same character as those met
with lower down, and attest a large population. An important cemetery
of the C group with mud-brick chapels protected by blown sand, covering
early dynastie and predynastic burials, is to be reported upon in the next
number. The town and the neighbourhood of the temple were partially
excavated. The temple well yielded no antiquities, but about 300 Greek
ostraca were obtained which should be of particular interest from tliis
locali'ty. Drs. Elliot Smith and Derry report on the skeletons and
detect an incursion of negroes with well-marked physical and cultural
features in the Ilnd to IVtb centiuies a.d. (the X group) : some tall
negroes of the Graeco-Eoman âge had filed teeth. Mr. 0. Bâtes publisbes
some graffiti from rocks soutb-west of Dakka, in Egyptian, Greek, Latin
and Meroitic.

A second livraison of Sir G: Maspero's Temples immergés de la Ahibic
complètes the report on the repairs of the temple of Kalabsha with
Dandûr, Gerf Husên, and part of Dakka temple. M. Barsanti bas
accomplished bis task with marvellous ability'and the utmost economy,
whatever may be said of the conservations from the points of view of
arcbaeology and of artistic sentiDient.

Elepiiantine. In a lengthy paper Honroth, Rubensohn and Zucker
report fully on the excavations of 1906-8, with plans, etc. Jars with
Aramaic inscriptions were found in one of the bouses and some ostraca,
but no more Aramaic papyri. Constructions of Nekbtharbeb were laid
bare in front of the portai of Alexander, showing blocks of an XVIIIth
temple built into the walls, and much information was obtained regarding
the portion of the ruins excavated by the expédition. A.Z. xlvi. 14.