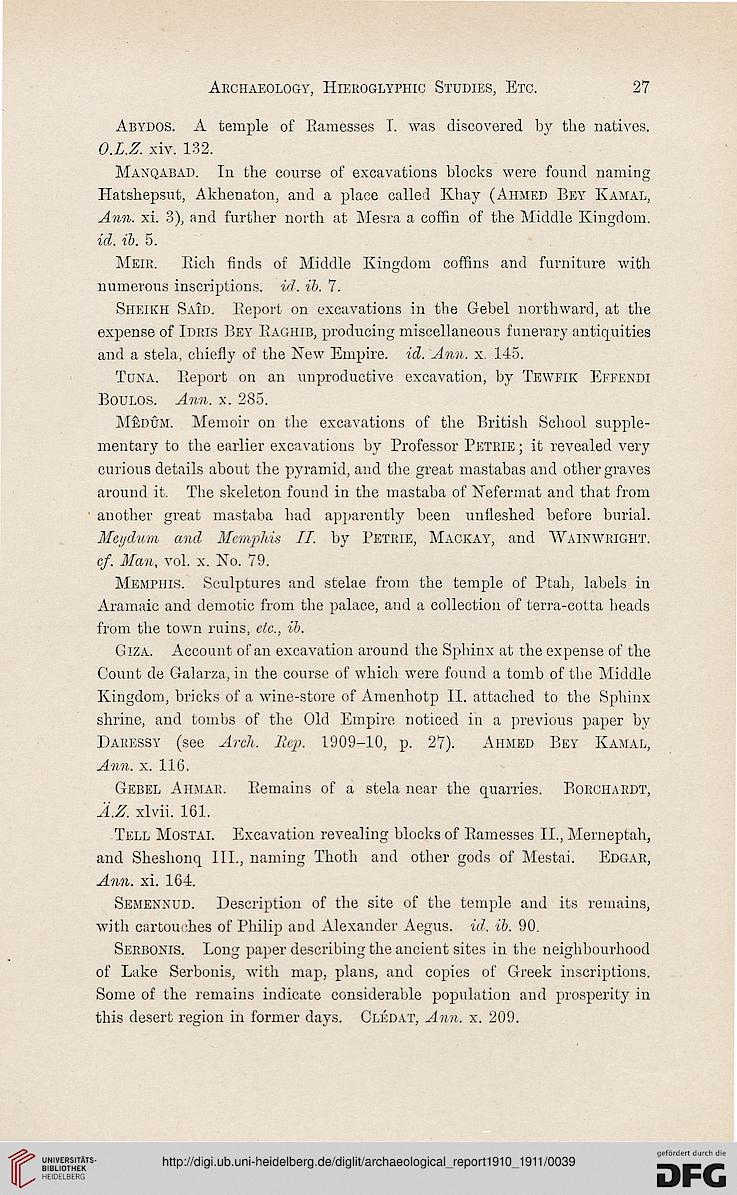 27

Abydos. A temple of Ramesses I. was discovered by the natives.
O.L.Z. xiv. 132.

Maxqabad. In the course of excavations blocks were found naming
Hatshepsut, Akheuaton, and a place called Khay (Ahmed Bey Kamal,
Ann. xi. 3), and further north at Mesra a coffin of the Middle Kingdom.
id. ib. 5.

Meir. Eich finds of Middle Kingdom coffins and furniture with
numerous inscriptions, id. ib. 7.

Sheikh Said. Report on excavations in the Gehel northward, at the
expense of Idkis Bey Raghib, producing miscellaneous funerary antiquities
and a stela, chiefly of the New Empire, id. Ann. x. 145.

Tuna. Report on an unproductive excavation, by Tewfik Effendi
Boulos. Ann. x. 285.

Medum. Memoir on the excavations of the British School supple-
mentary to the earlier excavations by Professor Petrie ; it revealed very
curious details about the pyramid, and the great mastabas and other graves
around it. The skeleton found in the mastaba of Nefermat and that from
another great mastaba had apparently been unfleshed before burial.
Meydum and Memphis II. by Petrie, Mackay, and Wainwright.
cf. Man, vol. x. No. 79.

Memphis. Sculptures and stelae from the temple of Ptah, labels in
Aramaic and demotic from the palace, and a collection of terra-cotta heads
from the town ruins, etc., ib.

Giza. Account of an excavation around the Sphinx at the expense of the
Count de Galarza, in the course of which were found a tomb of the Middle
Kingdom, bricks of a wine-store of Amenhotp II. attached to the Sphinx
shrine, and tombs of the Old Empire noticed in a previous paper by
Daressy (see Arch. Rep. 1909-10, p. 27). Ahmed Bey Kamal,

.47171. X. 116.

Gebel Ahmar. Remains of a stela near the quarries. Borchardt,
A.Z. xlvii. 161.

Tell Mostai. Excavation revealing blocks of Ramesses II., Merneptah,
and Sheshonq III., naming Thoth and other gods of Mestai. Edgar,
Ann. xi. 164.

Semennud. Description of the site of the temple and its remains,
with cartouches of Philip and Alexander Aegus. id. ib. 90.

Serbonis. Long paper describing the ancient sites in the neighbourhood
of Lake Serbonis, with map, plans, and copies of Greek inscriptions.
Some of the remains indicate considerable population and prosperity in
this desert region in former days. Cledat, Ann. x. 209.