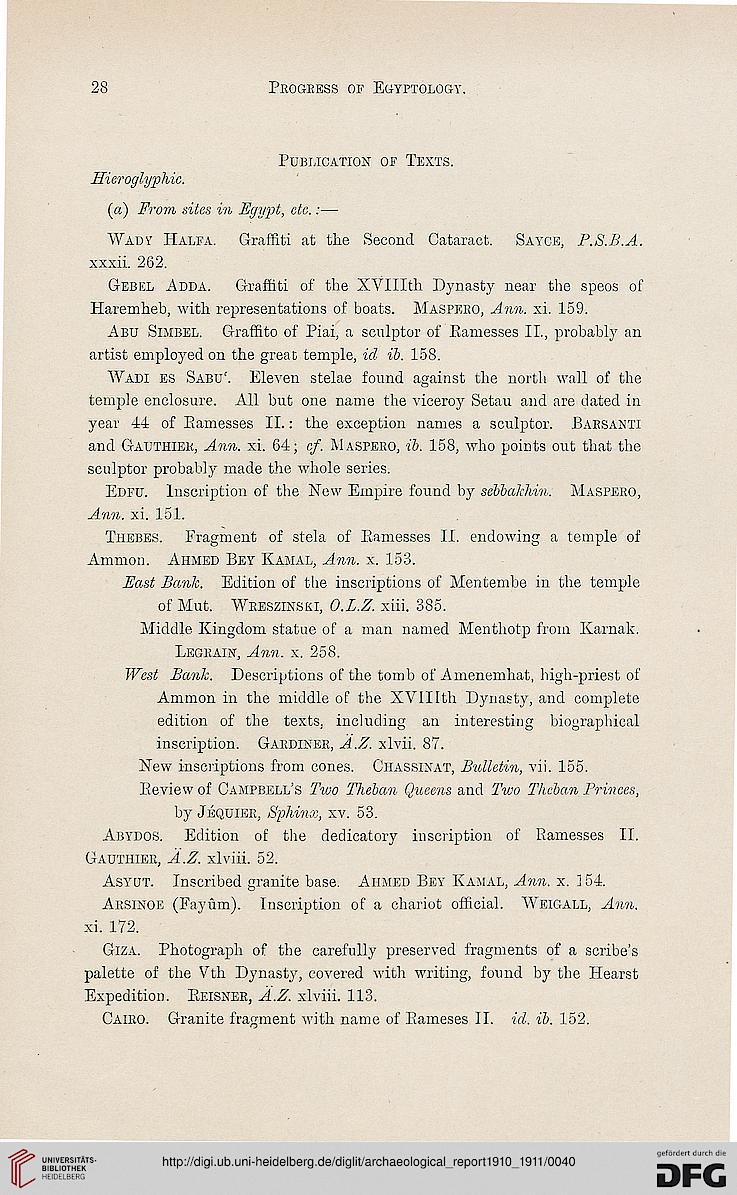 Peogbess of Egyptology.

Publication of Texts.

Hieroglyphic.

(a) From sites in Egypt, etc.:—

Wady Halfa. Graffiti at the Second Cataract. Sayce, P.S.B.A.
xxxii. 262.

Gebel Adda. Graffiti of the XVIIIth Dynasty near the speos of
Haremheb, with representations of boats. Maspeeo, Ann. xi. 159.

Abu Simbel. Graffito of Piai, a sculptor of Eaniesses II., probably an
artist employed on the great temple, id ib. 158.

Wadi es Sabu'. Eleven stelae found against the north wall of the
temple enclosure. All but one name the viceroy Setau and are dated in
year 44 of Eamesses II.: the exception names a sculptor. Babsanti
and Gauthiee, Ann. xi. 64; cf. Maspeeo, ib. 158, who points out that the
sculptor probably made the whole series.

Edfu. Inscription of the New Empire found by sebbakhin. Maspeeo,
Ann. xi. 151.

Thebes. Fragment of stela of Eamesses II. endowing a temple of
Ammon. Ahmed Bey Kamal, Ann. x. 153.

East Bank. Edition of the inscriptions of Mentembe in the temple
of Mut. Weeszinski, O.L.Z. xiii. 385.
Middle Kingdom statue of a man named Menthotp from Karnak.
Legeain, Ann. x. 258.
West Bank. Descriptions of the tomb of Amenemhat, high-priest of
Ammon in the middle of the XVIIIth Dynasty, and complete
edition of the texts, including an interesting biographical
inscription. Gabdlneb, A.Z. xlvii. 87.
New inscriptions from cones. Chassixat, Bulletin, vii. 155.
Eeview of Campbell's Two Theban Queens and Two Tlicban Princes,
by Jequiee, Sphinx, xv. 53.
Abydos. Edition of the dedicatory inscription of Eamesses II.
Gauthiee, A.Z. xlviii. 52.
Asyut. Inscribed granite base. Ahmed Bey Kamal, Ann. x. ] 54.
Aesinoe (Fayum). Inscription of a chariot official. Weigall, Ann.
xi. 172.

Giza. Photograph of the carefully preserved fragments of a scribe's
palette of the Vth Dynasty, covered with writing, found by the Hearst
Expedition. Beisneb, A.Z. xlviii. 113.

Caieo. Granite fragment with name of Barneses II. id. ib. 152.