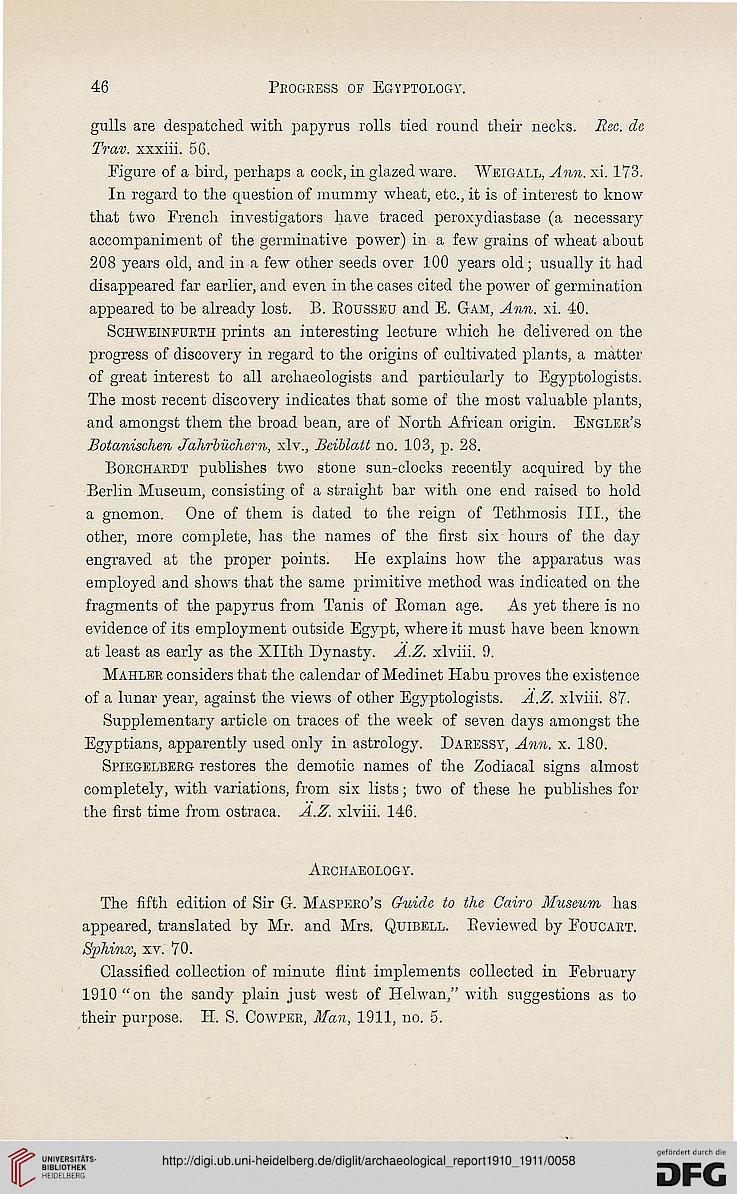 Progeess of Egyptology.

gulls are despatched with papyrus rolls tied round their necks. Eec. de
Trav. xxxiii. 56.

Figure of a bird, perhaps a cock, in glazed ware. Weigall, Ann. xi. 173.

In regard to the question of mummy wheat, etc., it is of interest to know
that two French investigators have traced peroxydiastase (a necessary
accompaniment of the germinative power) in a few grains of wheat about
208 years old, and in a few other seeds over 100 years old; usually it had
disappeared far earlier, and even in the cases cited the power of germination
appeared to be already lost. B. Bousseu and E. Gam, Ann. xi. 40.

Schweinfurth prints an interesting lecture which he delivered on the
progress of discovery in regard to the origins of cultivated plants, a matter
of great interest to all archaeologists and particularly to Egyptologists.
The most recent discovery indicates that some of the most valuable plants,
and amongst them the broad bean, are of North African origin. Englee's
Botanisclien Jahrbiichefn, xlv., Beiblatt no. 103, p. 28.

Bobchaedt publishes two stone sun-clocks recently acquired by the
Berlin Museum, consisting of a straight bar with one end raised to hold
a gnomon. One of them is dated to the reign of Tethmosis III., the
other, more complete, has the names of the first six hours of the day
engraved at the proper points. He explains how the apparatus was
employed and shows that the same primitive method was indicated on the
fragments of the papyrus from Tanis of Boman age. As yet there is no
evidence of its employment outside Egypt, where it must have been known
at least as early as the Xllth Dynasty. A.Z. xlviii. 9.

Mahlee considers that the calendar of Medinet Habu proves the existence
of a lunar year, against the views of other Egyptologists. A.Z. xlviii. 87.

Supplementary article on traces of the week of seven days amongst the
Egyptians, apparently used only in astrology. Daeessy', Ann. x. 180.

Spiegelberg restores the demotic names of the Zodiacal signs almost
completely, with variations, from six lists; two of these he publishes for
the first time from ostraca. A.Z. xlviii. 146.

Archaeology.

The fifth edition of Sir G. Maspeeo's Guide to the Cairo Museum has
appeared, translated by Mr. and Mrs. Quibell. Beviewed by Foucaet.
Sphinx, xv. 70.

Classified collection of minute flint implements collected in February
1910 "on the sandy plain just west of Helwan," with suggestions as to
their purpose. H. S. Cowpee, Man, 1911, no. 5.