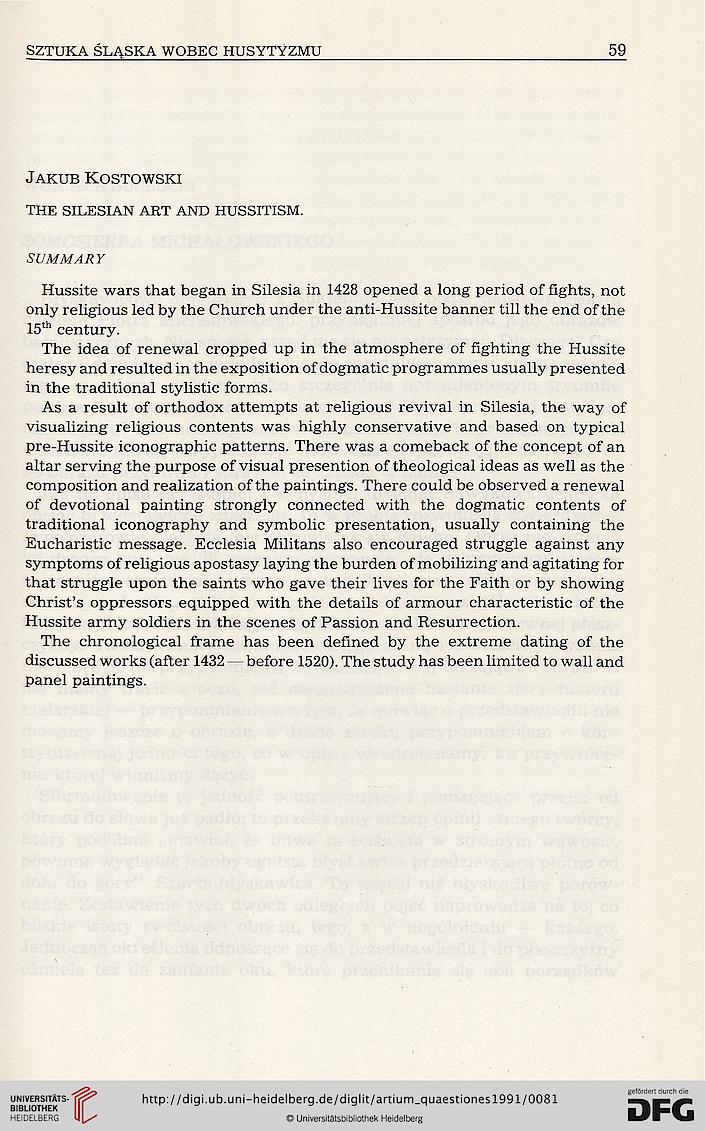 59

JAKUB KOSTOWSKI
THE SILESIAN ART AND HUSSITISM.
WMAfdRy
Hussite wars that began in Silesia in 1428 opened a long period of lights, not
only religious led by the Church under the anti-Hussite banner till the end of the
15"* century.
The idea of renewal cropped up in the atmosphere of lighting the Hussite
heresy and resulted in the exposition of dogmatic programmes usually presented
in the traditional stylistic forms.
As a result of orthodox attempts at religious revival in Silesia, the way of
visualizing religious contents was highly conservative and based on typical
pre-Hussite iconographic patterns. There was a comeback of the concept of an
altar serving the purpose of visual presention of theological ideas as well as the
composition and realization of the paintings. There could be observed a renewal
of devotional painting strongly connected with the dogmatic contents of
traditional iconography and symbolic presentation, usually containing the
Eucharistic message. Ecclesia Militans also encouraged struggle against any
symptoms of religious apostasy laying the burden of mobilizing and agitating for
that struggle upon the saints who gave their lives for the Faith or by showing
Christ's oppressors equipped with the details of armour characteristic of the
Hussite army soldiers in the scenes of Passion and Resurrection.
The chronological frame has been defined by the extreme dating of the
discussed works (after 1432 — before 1520). The study has been limited to wall and
panel paintings.