Neue Versuche und Bemerkungen aus der Arztneykunst und übrigen Gelehrsamkeit: e. Gesellschaft zu Edimburg vorgelesen u. von ihr hrsg.
Altenburg: Richter, 1756-1775
[in UB Heidelberg lückenhaft digitalisiert; extern digitalisiert:
SLUB Dresden
]
Citation link: https://digi.ub.uni-heidelberg.de/diglit/arztneykunst_gelehrsamkeit
URN: urn:nbn:de:bsz:16-diglit-484751
DOI: https://doi.org/10.11588/diglit.48475
Metadata: METS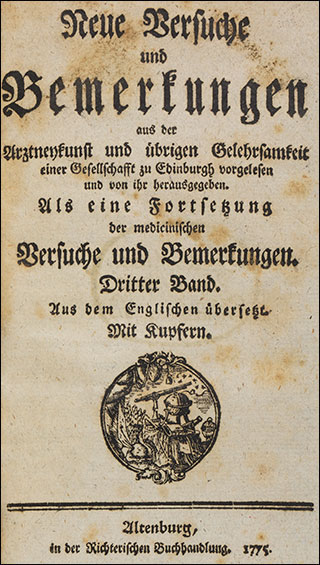 There are annotations to this facsimile. Individual pages with annotations are marked in "Overview" with the symbol .
All related items