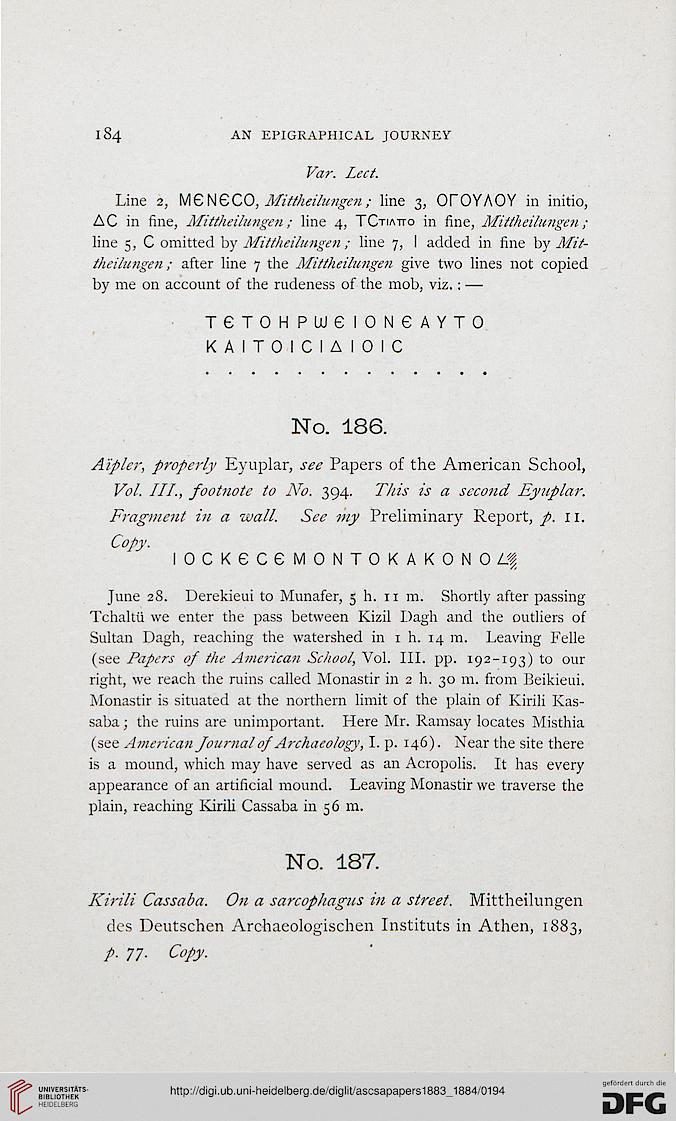 Var. Lect.

Line 2, MGNGCO, Mittheilungen; line 3, OTOYAOY in initio,
AC in fine, Mittheilungen; line 4, TCtiatto in fine, Mittheilungen ;
line 5, C omitted by Mittheilungen ; line 7, I added in fine by Mit-
theilungen ; after line 7 the Mittheilungen give two lines not copied
by me on account of the rudeness of the mob, viz. ; —

TGTOHPUUeiONGAYTO
KAITOICIAIOIC

No. 186.

Aiplcr, properly Eyuplar, see Papers of the American School,
Vol. III., footnote to No. 394. This is a second Eyuplar.
Fragment in a wall. Sec my Preliminary Report,/. 11.
Copy.

lOCKeceMONTOKAKONOZjf

June 28. Derekieui to Munafer, 5 h. 11 m. Shortly after passing
Tchaltu we enter the pass between Kizil Dagh and the outliers of
Sultan Dagh, reaching the watershed in 1 h. 14 m. Leaving Felle
(see Papers of the American School, Vol. III. pp. 192-193) to our
right, we reach the ruins called Monastir in 2 h. 30 m. from Beikieui.
Monastir is situated at the northern limit of the plain of Kirili Kas-
saba; the ruins are unimportant. Here Mr. Ramsay locates Misthia
(see American fournal of Archaeology, I. p. 146). Near the site there
is a mound, which may have served as an Acropolis. It has every
appearance of an artificial mound. Leaving Monastir we traverse the
plain, reaching Kirili Cassaba in 56 m.

No. 187.

Kirili Cassaba. On a sarcophagus in a street. Mittheilungen
des Deutschen Archaeologischen Instituts in Athen, 1883,
p. 77. Copy.