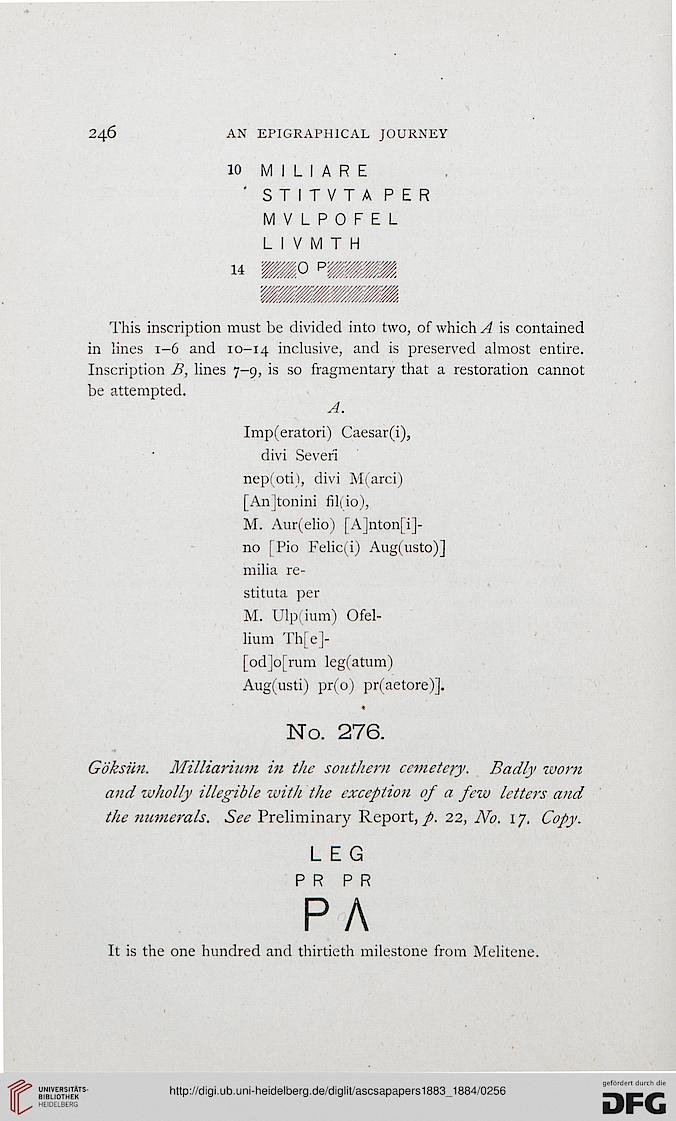 AN EPIGRAPHICAL

JOURNEY

10 M I L I A R E
' STITVTA PER
MVLPOFEL
L I V M T H

This inscription must be divided into two, of which A is contained
in lines 1-6 and 10-14 inclusive, and is preserved almost entire.
Inscription B, lines 7-9, is so fragmentary that a restoration cannot
be attempted.

Imp(eratori) Caesar(i),

divi Seven
nep(oti), divi M(arci)
[Anjtonini fil(io),
M. Aur(elio) [A]nton[i]-
no [Pio Felic(i) Aug(usto)]
milia re-
stituta per
M. Uip(ium) Ofel-
lium Th[e]-
[od]o[rum leg(atum)
Aug(usti) pr(o) pr(aetore)].

Gbksiin. Milliarium in the southern cemetery. Badly worn
and wholly illegible with the exception of a few letters and
the numerals. See Preliminary Report,/. 22, No. 17. Copy.

A.

No. 276.

LEG

PR PR

It is the one hundred and thirtieth milestone from Mulitene.