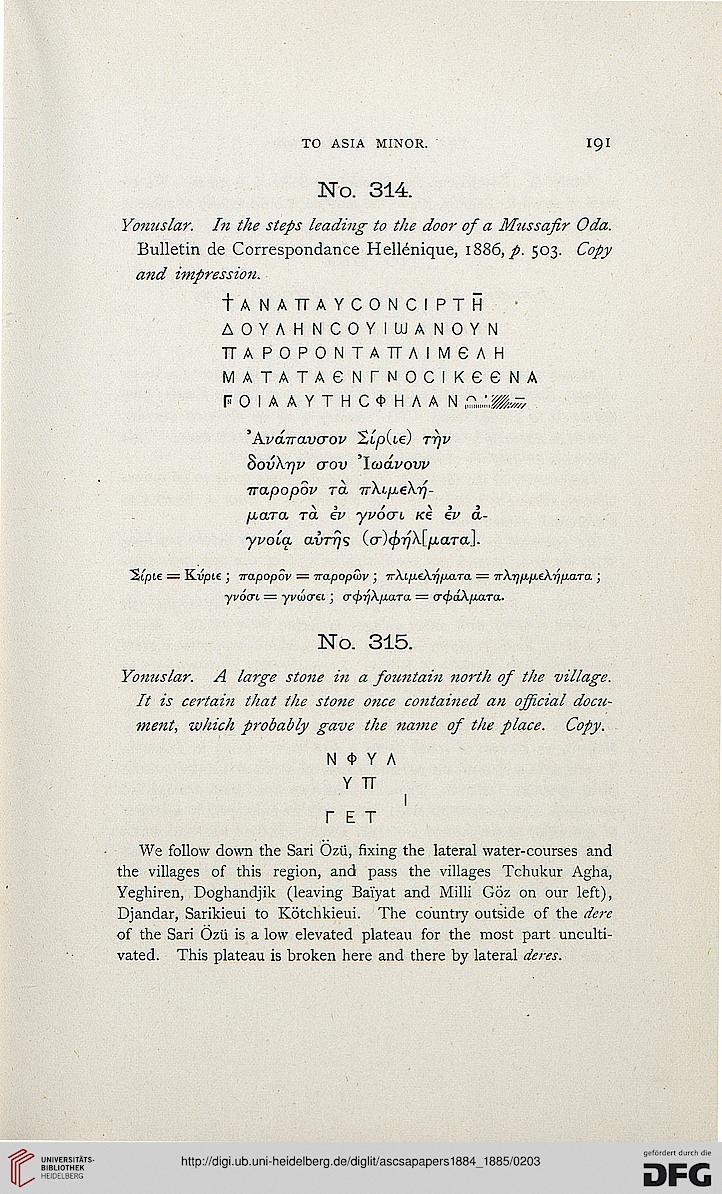 191

No. 314.

Yonuslar. In the steps leading to the door of a Mussafir Oda.
Bulletin de Correspondance Hellenique, 1886,/. 503. Copy
and impression.

TANATTAYCONCIPTH
AOYAH NCOYIWANOYN
TTAPOPONTATTAIMGAH
MATATAGNTNOCIKGGNA
FOIAAYTHCtHAAN QJ.M™,

'Avairavaov %ip(ie) tyjv
8ov\r)i> crov 'Icodvovv
irapopov to. TrX'/xeXij-
p.ara rd kv yvocri Ke iv d-
yvola. avrrj<; (o-)(f>7]\[fJLaTa].

*%lpu = K.vpte ; irapopov = irapopwv ; irXip,e\rip.ara = ir\r)p.p.eXripnTa ;
yvoai = yvu>o~u ; o-<f>rj\jxaTa = a(f>a\p.aTa.

No. 315.

Yonuslar. A large stone in a fountain north of the village.
It is certain that the stotie once contained an official docu-
ment, which probably gave the name of the place. Copy.

Y TT

I

r e t

We follow down the Sari Ozii, fixing the lateral water-courses and
the villages of this region, and pass the villages Tchukur Agha,
Yeghiren, Doghandjik (leaving Ba'iyat and Milli Gdz on our left),
Djandar, Sarikieui to Kotchkieui. The country outside of the dere
of the Sari Ozii is a low elevated plateau for the most part unculti-
vated. This plateau is broken here and there by lateral deres.