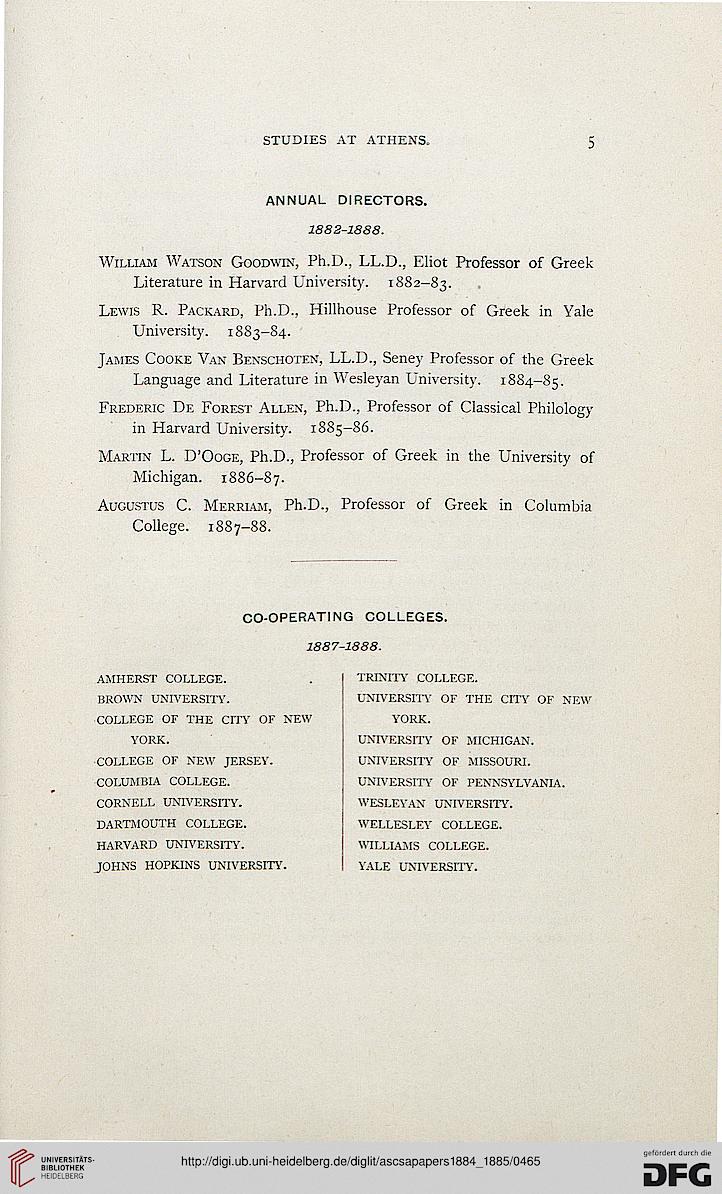 5

ANNUAL DIRECTORS.

1882-1888.

William Watson Goodwin, Ph.D., LL.D., Eliot Professor of Greek
Literature in Harvard University. 1882-83.

Lewis R. Packard, Ph.D., Hillhouse Professor of Greek in Yale
University. 1883-S4.

James Cooke Van Benschoten, LL.D., Seney Professor of the Greek
Language and Literature in Wesleyan University. 1884-85.

Frederic De Forest Allen, Ph.D., Professor of Classical Philology
in Harvard University. 1885-S6.

Martin L. D'Ooge, Ph.D., Professor of Greek in the University of
Michigan. 1886-87.

Augustus C. Merriam, Ph.D., Professor of Greek in Columbia
College. 188 7—88.

CO-OPERATING COLLEGES.

1887-1888.

amherst college.
brown university.
college of the city of new
york.

college of new jersey.
columbia college.
cornell university.
dartmouth college.
harvard university.
johns hopkins university.

trinity college.

university of the city of new
york.

university of michigan.
university of missouri.
university of pennsylvania.
wesleyan university'.
wellesley college.
williams college.
yale university.