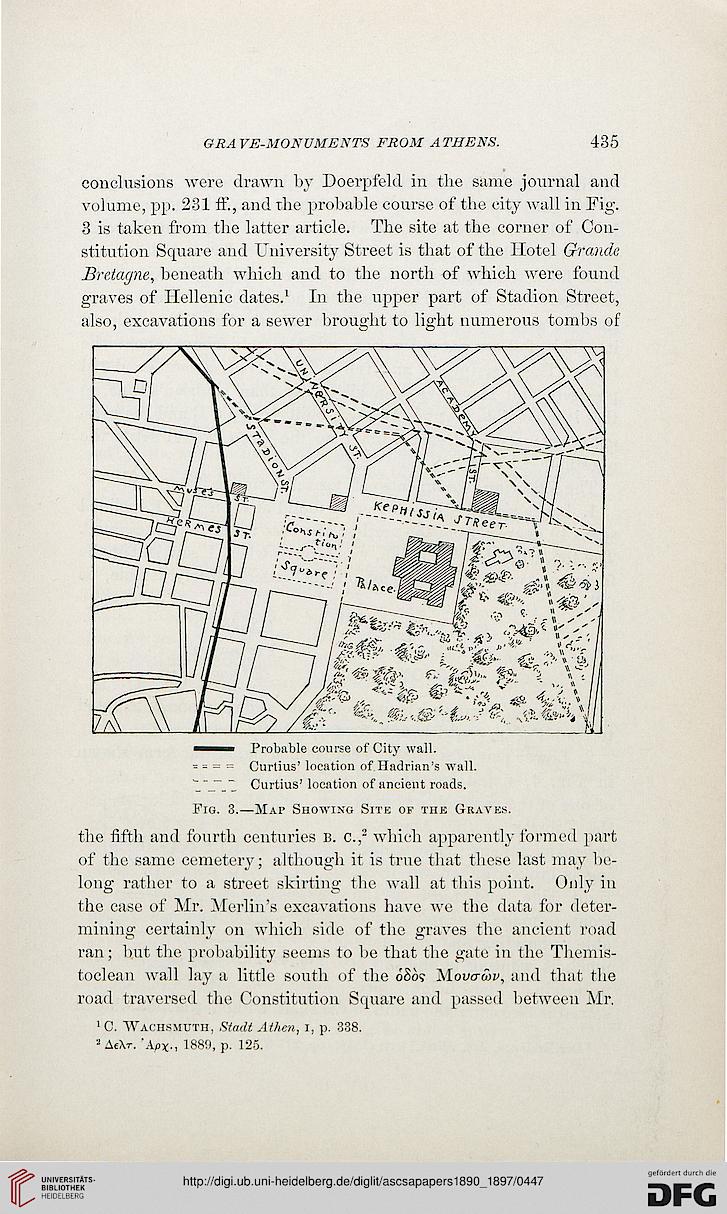 435

conclusions were drawn by Doerpfeld in the same journal and
volume, pp. 231 ff., and the probable course of tbe city wall in Fig.
3 is taken from tbe latter article. The site at the corner of Con-
stitution Square and University Street is that of the Hotel Grande
Bretagne, beneath which and to the north of which were found
graves of Hellenic dates.1 In the upper part of Stadion Street,
also, excavations for a sewer brought to light numerous tombs of

Probable course of City wall.
= = = = Curtius' location of Hadrian's wall.
1Curtius' location of ancient roads.

Fig. 3.—Map Showing Site of the Graves.

the fifth and fourth centuries B. c.,2 which apparently formed part
of the same cemetery; although it is true that those last may be-
long rather to a street skirting the wall at this point. Only in
the case of Mr. Merlin's excavations have we the data for deter-
mining certainly on which side of the graves the ancient road
ran; but the probability seems to be that the gate in the Themis-
toclean wall lay a little south of the 6So? Movawv, and that the
road traversed the Constitution Square and passed between Mr.

1 C. Wachsmuth, Stadt At/ten, i, p. 338.

2 Ac\t. "Apx., 1889, p. 125.