Universitätsbibliothek Heidelberg, Urk. Barth 13
[Kaiserslautern], 1308 April 19
Bürgermeister, Rat und Bürger von Lautern (Kaiserslautern) beurkunden, dass die Begine Adelheid, Bürgerin von Lautern, allen Streitigkeiten und Forderungen, die sie, ihre Erben und Verwandten gegen die Nonnen von St. Lambrecht und deren Untertanen, besonders gegen Hermann den Wagenmacher (wegener), einen Untertanen des Klosters, hatten, aufgeben und auf alle Ansprüche verzichten. Adelheid bittet darüber hinaus ihre Verwandten, die Streitsache nie mehr aufleben zu lassen. Käme es doch wieder zu neuerlichem Streit, so müssen Adelheid bzw. ihre Verwandten dem Kloster 40 Pfund Heller als Buße bezahlen. Ankündigung des Siegels der Stadt (Kaisers-)Lautern.
Language: German

Citation link: https://digi.ub.uni-heidelberg.de/diglit/barth13
URN: urn:nbn:de:bsz:16-diglit-116571
DOI: https://doi.org/10.11588/diglit.11657
Metadata: METS
IIIF Manifest: https://digi.ub.uni-heidelberg.de/diglit/iiif/barth13/manifest.json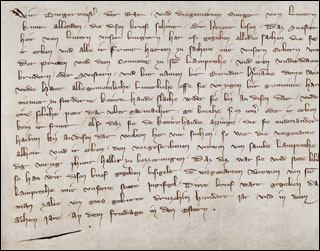 There are annotations to this facsimile. Individual pages with annotations are marked in "Overview" with the symbol .
Content