Universitätsbibliothek Heidelberg, Urk. Barth 149
Worms, Stift St. Martin, 1511 Juni 30
Notariatsinstrument: Der kaiserliche Notar Nikolaus Rederer beurkundet im Refektorium des Wormser Stifts St. Martin, dass Jodokus Basel, Priester in Worms, die Marien-Vikarie in der Pfarrkirche St. Lamberti, die zuvor Volkwin Wibink aus Osnabrück inne gehabt hatte, erhalten habe. Nachdem er (Basel) vor dem Kustos von St. Martin Johann Mormann, dem Kantor Johann Schiltknecht und den Stiftsherren Johann Schirmer, Johann Rockenhuser, Jakob Schreiber und Michael Kircher den Eid geleistet habe, sei ihm von diesen im Chor Kirche des Stifts St. Martin sein Sitz ("stallus") angewiesen worden ("installatus") unter dreimaliger Wiederholung des Psalmverses: "hec requies mea in seculum seculi, hic habitabo" (Ps 131,14). Zeugen sind: Johannes Vitzthum, Propst des Stifts, sowie Philipp Schinkus (?).
Language: Latin

Citation link: https://digi.ub.uni-heidelberg.de/diglit/barth149
URN: urn:nbn:de:bsz:16-diglit-118340
DOI: https://doi.org/10.11588/diglit.11834
Metadata: METS
IIIF Manifest: https://digi.ub.uni-heidelberg.de/diglit/iiif/barth149/manifest.json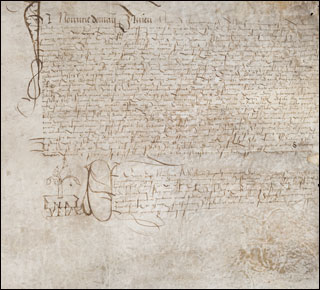 There are annotations to this facsimile. Individual pages with annotations are marked in "Overview" with the symbol .
Content