Kloster Reichenau, 1363 April 17
Eberhard, Abt des Klosters Reichenau, und der Konvent des Klosters beurkunden, dass die Bürger der Stadt Frauenfeld dem vorderen Altar, dem sogenannten Pfründneraltar, ihrer Kirche, die eine Filialkirche der Pfarrkirche in Erchingen ist, welche wiederum 1359 dem Kloster Reichenau inkorporiert worden war, eine ewige Frühmesse gestiftet haben, die vor Sonnenaufgang zu lesen ist. Dafür geben die Bürger von Frauenfeld 5 Mark ewigen Geldes, die der Priester, dem der Altar verliehen ist, als Pfründe haben soll. Es folgen ausführliche Bestimmungen über die Besetzung der Vikarie, die Wahl des Pfarrers – verbunden mit Ausführungen über die Wähler – und seine Investitur sowie über Strafbestimmungen bei Missachtung der Ausführungen. Ankündigung der Siegel des Abts, des Reichenauer Konvents sowie Eberhards, des Kirchherrn zu Erchingen, und der Stadt Frauenfeld.
Language: German

Citation link: https://digi.ub.uni-heidelberg.de/diglit/barth30
URN: urn:nbn:de:bsz:16-diglit-116736
Metadata: METS
IIIF Manifest: https://digi.ub.uni-heidelberg.de/diglit/iiif/barth30/manifest.json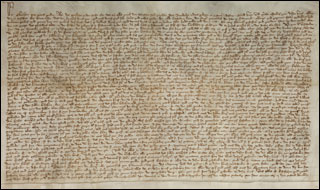 There are annotations to this facsimile. Individual pages with annotations are marked in "Overview" with the symbol .
Content