Universitätsbibliothek Heidelberg, Urk. Barth 70
[Kloster Reichenau?], 1417 Januar 26
Friedrich von Zollern, Abt des Klosters Reichenau, der Konvent und das Kapitel des Klosters beurkunden, dass sie Konrad Kofer (Kofar), dem Leutpriester zu Ermatingen, erlaubt haben, einen Hof und einen Weingarten der Kirche in Ermatingen, der zur Abtstafel gehört, als Erblehen an Heinrich Etter auszugeben. Dieser hat für das Gut jährlich sechs Herbsthühner und für den Weinberg ein Drittel des Ertrags an den Pfarrer der Ermatinger Kirche abzugeben. Etter und seine Erben verpflichten sich, die Lehen in einem guten Zustand zu halten und den genannten Zins rechtzeitig und vollständig abzuliefern. Sollten sie die Lehen einmal veräußern wollen oder verpfänden müssen, so hat dies in die Genosssame des Klosters und, was die Zinszahlungen angeht, ohne Nachteile für die Kirche in Ermatingen zu geschehen. Ankündigung der Siegel des Abts und des Konvents.
Language: German

Citation link: https://digi.ub.uni-heidelberg.de/diglit/barth70
URN: urn:nbn:de:bsz:16-diglit-117131
DOI: https://doi.org/10.11588/diglit.11713
Metadata: METS
IIIF Manifest: https://digi.ub.uni-heidelberg.de/diglit/iiif/barth70/manifest.json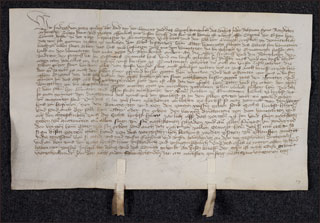 There are annotations to this facsimile. Individual pages with annotations are marked in "Overview" with the symbol .
Content