[Dürkheim?, Kloster Limburg?], 1540 Februar 18
Grein Hensel Becker und seine Frau Ottilie bestätigen die Richtigkeit der inserierten Urkunde des Klosters Limburg, mit der Siegfried (von Bergen), der Abt des Klosters, näher beschriebene Grundstücke in der Neustädter Gemarkung als Erblehen an die Aussteller der vorliegenden Urkunde vergibt. Auf Bitten Beckers und seiner Ehefrau hängt der (Limburger?) Ausvogt Peter von Weidental sein Siegel an, ohne dass daraus in dieser Sache Ansprüche gegenüber ihm oder seinen Erben geltend gemacht werden können.
Language: German

Citation link: https://digi.ub.uni-heidelberg.de/diglit/batt8
URN: urn:nbn:de:bsz:16-diglit-148352
Metadata: METS
IIIF Manifest: https://digi.ub.uni-heidelberg.de/diglit/iiif/batt8/manifest.json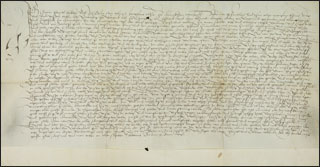 There are annotations to this facsimile. Individual pages with annotations are marked in "Overview" with the symbol .
Content