Vatikan, Biblioteca Apostolica Vaticana, Pal. lat. 1637
Italien, 15. Jh.
Die Handschrift ist beschrieben in: Elisabeth Pellegrin (Hrsg.), Les manuscrits classiques latins de la Bibliothèque Vaticane, Bd. 2,2: Fonds Palatin, Rossi, Ste-Marie Majeure et Urbinate, Paris 1982 (Documents, Études et Répertoires publiés par l'Institut de Recherche et d'Histoire des Textes 21), S. 289-290.
Citation link: https://digi.ub.uni-heidelberg.de/diglit/bav_pal_lat_1637
URN: urn:nbn:de:bsz:16-diglit-103797
DOI: https://doi.org/10.11588/diglit.10379
Metadata: METS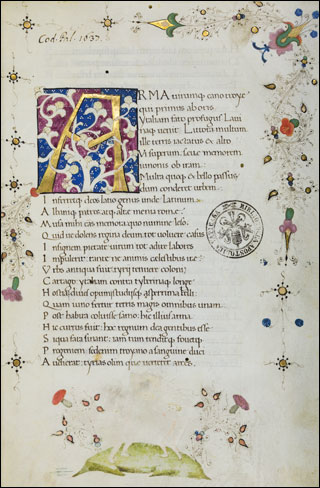 There are annotations to this facsimile. Individual pages with annotations are marked in "Overview" with the symbol .
Content