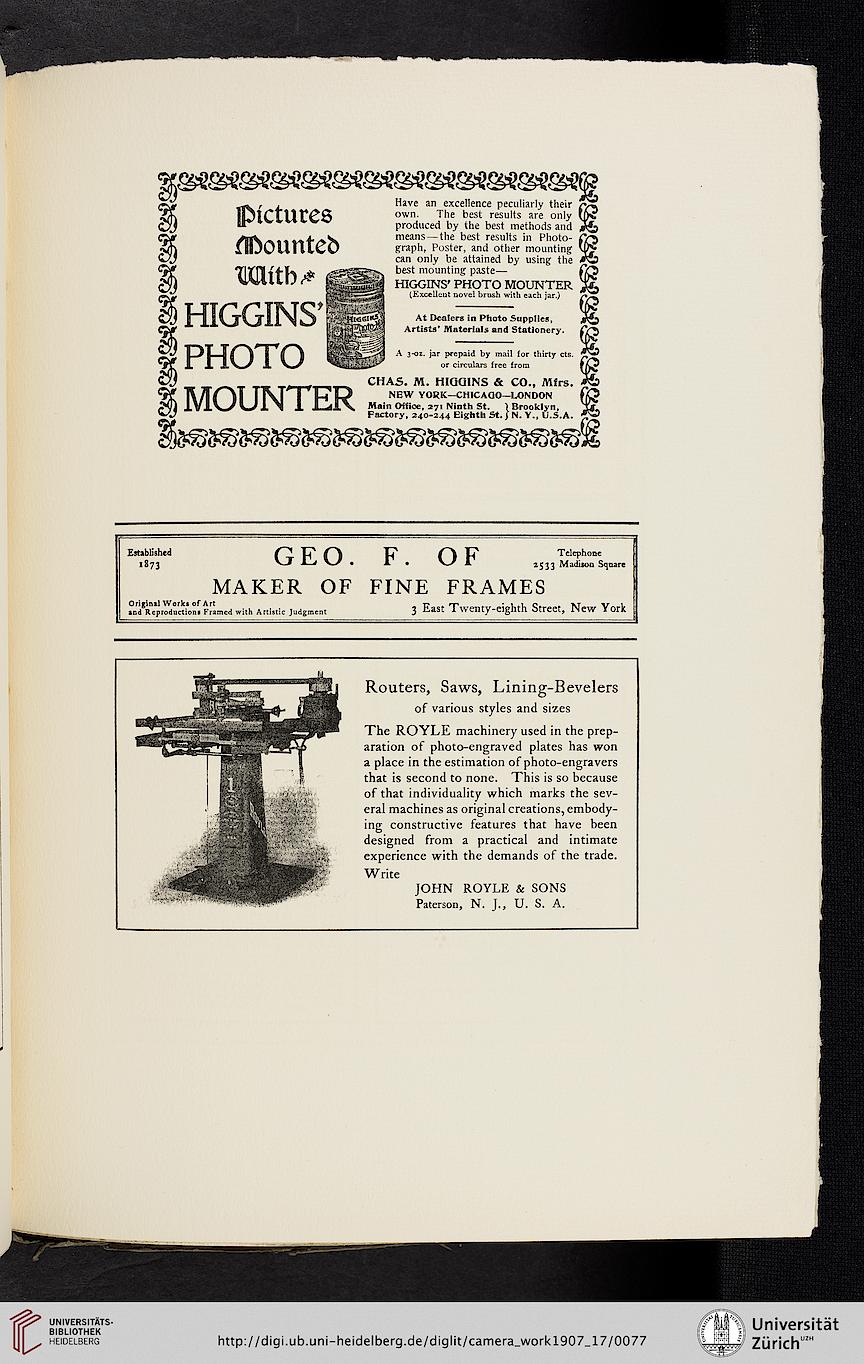 A manually made transcription or edition is also available for this page. Please change to the tab "transrciption" or "edition."
Pictures
Mounted
With
HIGGINS'
PHOTO
MOUNTER
Have an excellence peculiarly their
own. The best results are only
produced by the best methods and
means—the best results in Photo-
graph, Poster, and other mounting
can only be attained by using the
best mounting paste—
HIGGINS' PHOTO MOUNTER
(Excellent novel brush with each jar.)
At Dealers in Photo Supplies,
Artists' Materials and Stationery.
A 3-oz.jar prepaid by mail for thirty cts.
or circulars free from
CHAS. M. HIGGINS & CO., Mfrs.
NEW YORK—CHICAGO—LONDON
Main Office, 271 Ninth St. Brooklyn,
Factory, 240-244 Eighth St. N. Y., U.S.A.
Routers, Saws, Lining-Bevelers
of various styles and sizes
The ROYLE machinery used in the prep-
aration of photo-engraved plates has won
a place in the estimation of photo-engravers
that is second to none. This is so because
of that individuality which marks the sev-
eral machines as original creations, embody-
ing constructive features that have been
designed from a practical and intimate
experience with the demands of the trade.
Write
JOHN ROYLE & SONS
Paterson, N. J., U.S.A.
Established GEO.
F.
OF Telephone
2533 Madison Square
MAKER OF
FINE
FRAMES
Original Works of Art
and Reproductions Framed with Artistic Judgment
3 East Twenty-eighth Street, New York