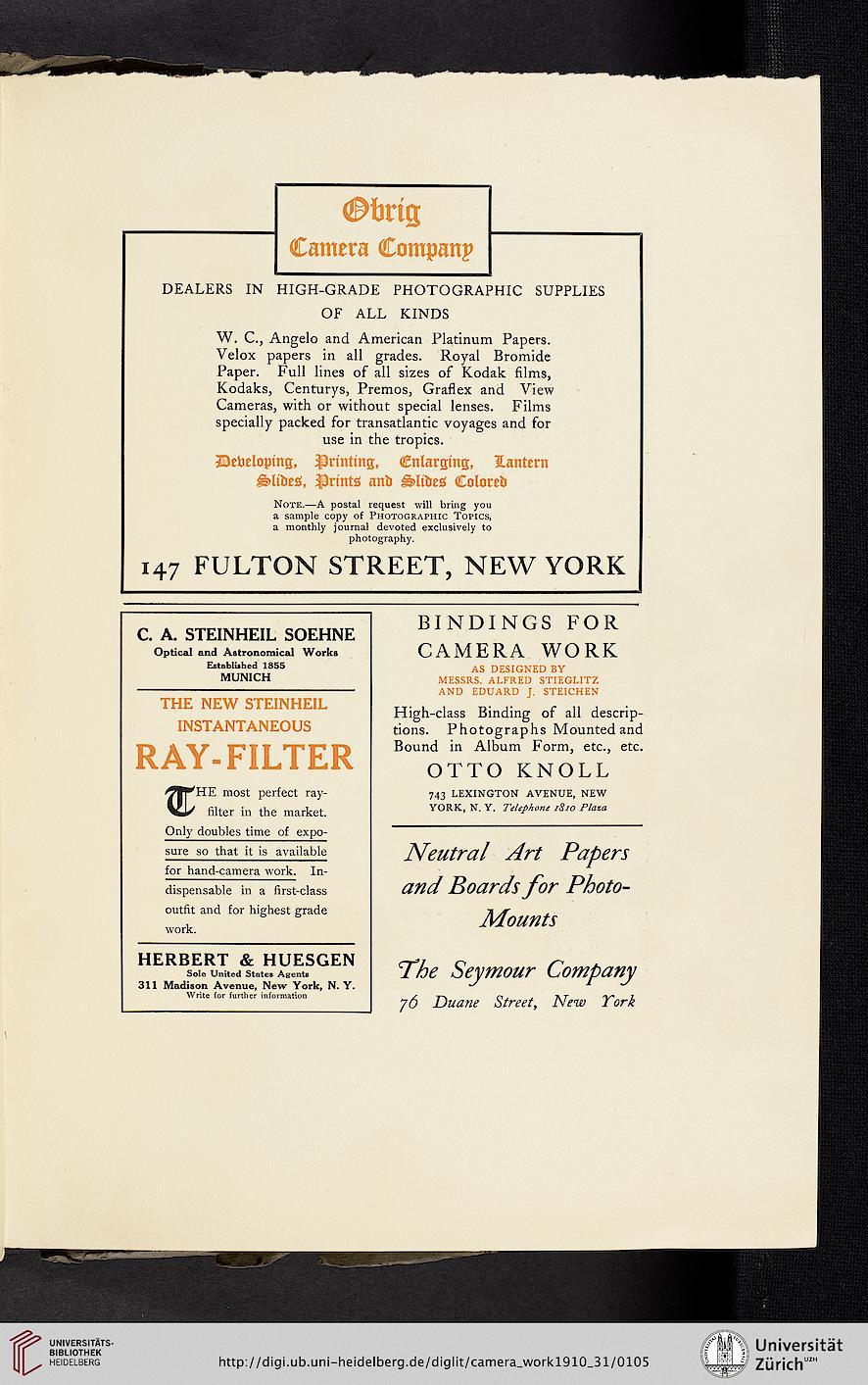 A manually made transcription or edition is also available for this page. Please change to the tab "transrciption" or "edition."
Obrig
Camera Company
DEALERS IN HIGH-GRADE PHOTOGRAPHIC SUPPLIES
OF ALL KINDS
W. C., Angelo and American Platinum Papers.
Velox papers in all grades. Royal Bromide
Paper. Full lines of all sizes of Kodak films,
Kodaks, Centurys, Premos, Graflex and View
Cameras, with or without special lenses. Films
specially packed for transatlantic voyages and for
use in the tropics.
Developing, Printing, Enlarging, Lantern
Slides, Prints and Slides Colored
Note.—A postal request will bring you
a sample copy of Photographic Topics,
a monthly journal devoted exclusively to
photography.
147 FULTON STREET, NEW YORK
C. A. STEINHEIL SOEHNE
Optical and Astronomical Works
Established 1855
MUNICH
THE NEW STEINHEIL
INSTANTANEOUS
RAY-FILTER
HE most perfect ray-
filter in the market.
Only doubles time of expo-
sure so that it is available
for hand-camera work. In-
dispensable in a first-class
outfit and for highest grade
work.
HERBERT & HUESGEN
Sole United States Agents
311 Madison Avenue, New York, N. Y.
Write for further information
BINDINGS FOR
CAMERA WORK
AS DESIGNED BY
MESSRS. ALFRED STIEGLITZ
AND EDUARD J. STEICHEN
High-class Binding of all descrip-
tions. Photographs Mounted and
Bound in Album Form, etc., etc.
OTTO KNOLL
743 LEXINGTON AVENUE, NEW
YORK, N. Y. Telephone 1810 Plaza
Neutral Art Papers
and Boards for Photo-
Mounts
The Seymour Company
76 Duane Street, New York