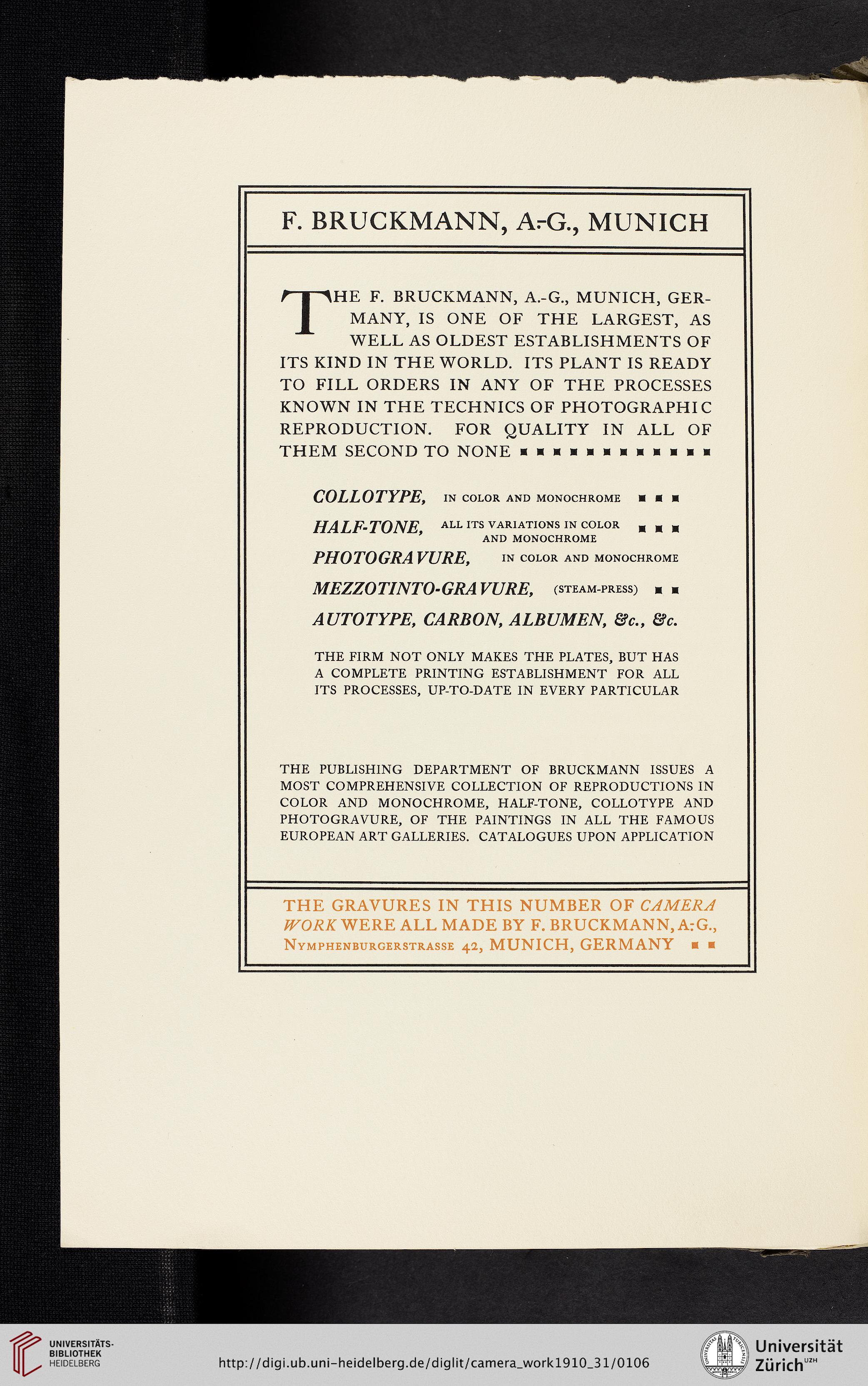 A manually made transcription or edition is also available for this page. Please change to the tab "transrciption" or "edition."
F.BRUCKMANN,A.-G.,MUNICH
THE F.BRUCKMANN,A.-G.,Munich,Ger-
MANY, IS ONE OF THE LARGEST, AS
WELL AS OLDEST ESTABLISHMENTS OF
ITS KIND IN THE WORLD. ITS PLANT IS READY
TO FILL ORDERS IN ANY OF THE PROCESSES
KNOWN IN THE TECHNICS OF PHOTOGRAPHIC
REPRODUCTION. FOR QUALITY IN ALL OF
THEM SECOND TO NONE ■■■■■■■■■■■■
COLLOTYPE, IN COLOR AND MONOCHROME ■■■
HALF-TONE, all its variations in color ■■■
AND MONOCHROME
PHOTOGRAVURE, IN COLOR AND MONOCHROME
MEZZOTINTO-GRA VURE, (STEAM-PRESS) ■■
AUTOTYPE, CARBON, ALBUMEN, &c., &c.
THE FIRM NOT ONLY MAKES THE PLATES, BUT HAS
A COMPLETE PRINTING ESTABLISHMENT FOR ALL
ITS PROCESSES, UP-TO-DATE IN EVERY PARTICULAR
THE PUBLISHING DEPARTMENT OF BRUCKMANN ISSUES A
MOST COMPREHENSIVE COLLECTION OF REPRODUCTIONS IN
COLOR AND MONOCHROME, HALF-TONE, COLLOTYPE AND
PHOTOGRAVURE, OF THE PAINTINGS IN ALL THE FAMOUS
EUROPEAN ART GALLERIES. CATALOGUES UPON APPLICATION
THE GRAVURES IN THIS NUMBER OF CAMERA
WORK WERE ALL MADE BY F. BRUCKMANN, A.-G.,
Nymphenburgerstrasse 42, MUNICH, GERMANY ■■