Papyros Ebers: Das Hermetische Buch über die Arzneimittel der alten Ägypter in hieratischer Schrift
Leipzig
Der Papyrus Ebers ist einer der bekanntesten medizinischen Papyri des Alten Ägypten. Der ca. 20 m(!) lange Papyrus behandelt in seinem Text zahlreiche Arten von Krankheiten und deren Symptome. Zur Behandlung werden eine Reihe von Heilmitteln mit genauer Handlungsanweisung angegeben, unterstützt durch magische Sprüche. Der Papyrus selbst wurde wahrscheinlich im 16. Jh.v.Chr. aufgezeichnet, dürfte jedoch auf ältere Quellen zurückgehen.Ohne Zusammenhang zum medizinischen Inhalt befinden sich auf der Rückseite des Papyrus Ebers Kalendereinträge in Bezug auf Amenophis I. Der Papyrus wurde nach dem deutschen Ägyptologen Georg Ebers benannt, der die Rolle 1872 in Theben von Grabräubern kaufte. Sie wird heute in der Universitätsbibliothek Leipzig aufbewahrt.
Citation link: https://digi.ub.uni-heidelberg.de/diglit/ebers1875ga
URN: urn:nbn:de:bsz:16-diglit-220
DOI: https://doi.org/10.11588/diglit.22
Metadata: METS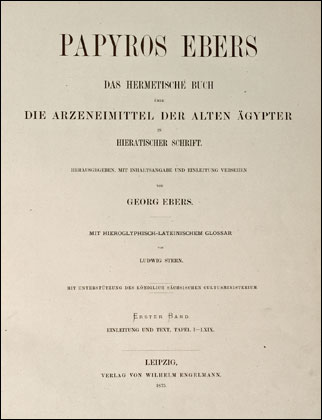 There are annotations to this facsimile. Individual pages with annotations are marked in "Overview" with the symbol .
All related items