Handtbüchlein: Darinnen viel sprüch vnd schöner Christlicher lehr, des H. Ephrems Diacons der kirchen zu Edessa in Syrien zusamen getragen, welche beynahe vor 1200. Jarn auß Syrischer Sprach in Grichische kommen$dJetzt newlich in Lateinische gebracht, vnd letztlich in vnsere Teutsche verendert. Einem jeden Christen sein leben zu Gottes ehr vnd fürderung seiner seligkeit recht anzustellen, notwendig zu wissen. ...
Meyntz, 1565 [VD16 ZV 25907]
Citation link: https://digi.ub.uni-heidelberg.de/diglit/ephraem1565
URN: urn:nbn:de:bsz:16-diglit-442337
DOI: https://doi.org/10.11588/diglit.44233
Metadata: METS
IIIF Manifest: https://digi.ub.uni-heidelberg.de/diglit/iiif/ephraem1565/manifest.json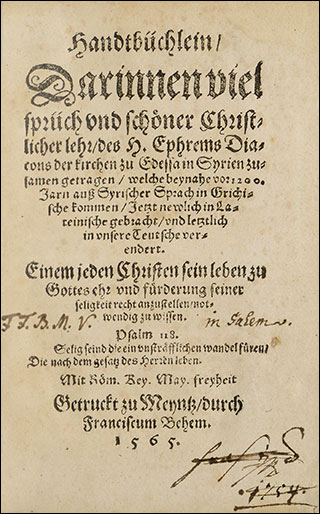 There are annotations to this facsimile. Individual pages with annotations are marked in "Overview" with the symbol .
Content