Genealogisch-heraldischer Staats-Calender: auf das Jahr ..., worinn aller hohen vornehmen kays. königl. churfürstl. und fürstl. Personen in- und ausländischen Häusern in Europa Geburten, Vermählungen, Todtes-Fälle, Verwandtschafften und Stamm-Tafel kürtzlich beschrieben ...
Augspurg: Steidlin, 1720 - 1721; 1723; 1726 [ISSN 2701-7230] [VD18 90282876]
[in UB Heidelberg lückenhaft digitalisiert; extern digitalisiert Jg.1721; 1723; 1726
BSB München
]
Citation link: https://digi.ub.uni-heidelberg.de/diglit/genealogisch_heraldischer_staats_calender
URN: urn:nbn:de:bsz:16-diglit-485336
DOI: https://doi.org/10.11588/diglit.48533
Metadata: METS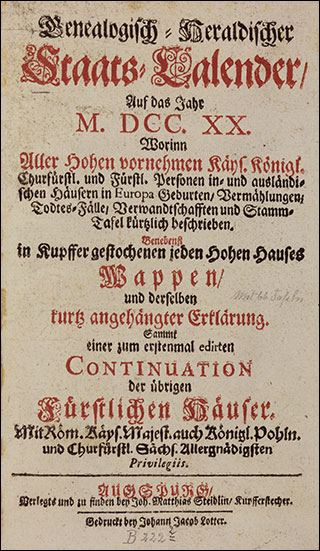 There are annotations to individual pages of this facsimile. Individual pages with annotations are marked in "Overview" with the symbol .
All related items