Passio Christi ab Alberto Durer Nurenbergensi effigiata : cu[m] varij generis carminibus Fratris Benedicti Chelidonij Musophili
Nürnberg, 1511
Digitalisiert nach dem Exemplar der Kunstsammlungen der Stadt Nürnberg (Dauerleihgabe im Germanischen Nationalmuseum Nürnberg).
Die Digitalisate wurden freundlicherweise vom Germanischen Nationalmuseum Nürnberg bereitgestellt. Die Erstellung der Webpräsentation erfolgte an der Universitätsbibliothek Heidelberg.
Citation link: https://digi.ub.uni-heidelberg.de/diglit/gnm_stn14
URN: urn:nbn:de:bsz:16-diglit-590172
Metadata: METS
IIIF Manifest: v2.1, v3.0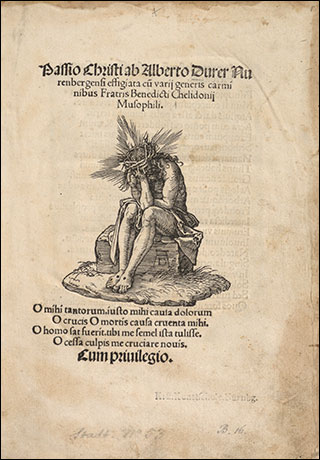 There are annotations to individual pages of this facsimile. Individual pages with annotations are marked in "Overview" with the symbol .
Content